Marrakesh: the Red City that continues to be Morocco's most popular tourist destination. A city that's so incredibly vibrant and visually stimulating that it's hard to think of anywhere with a similar ambience. From the spices and oils to the lanterns and carpets – each component that makes up Marrakesh contributes to its colourful identity. This was not more evident than when walking around the main souk and stopping at a few notable sites along the way.
The truth is that Marrakesh can be overwhelming. It's a sensory explosion of colour and chaos that will suck you in without you even noticing; the kind of place you either love or hate. This article strives to make sure you love it, by providing a luxury 3 day Marrakesh itinerary that will save you the confusion and frustration that a first-time visitor may understandably feel.
The Best Time to Visit Marrakesh
Marrakesh is located on the north western side of Morocco in Northern Africa and as one would expect, the climate is warm and dry with plenty of sunshine all year round. Rainfall is little to none so you don't need to worry about getting caught in a storm. On the other hand, you may want to avoid visiting during the summer months, when temperatures can reach as high at 43C/110F. The optimal time to visit is during the spring and autumn months, with an average high of around 25C/77F.
Tip: Whatever time of year you decide to visit, make sure you do not forget to pack your sunscreen. Remember that all the traditional brands that you may know and love are imported, and therefore tend to be significantly more expensive than back at home.
Accommodation Options
The hotel or riad you decide to go for will play a big part in helping you find calm amidst the commotion. Admittedly, trying to get a taxi in Marrakesh can be a little bit of a struggle – both because they are not always readily available and because tourists will likely be overcharged (meters are pretty much non-existent but more on this below). This is where your hotel will make things easier, and if airport transfers are available, I recommend booking them in advance.
On the bright side, Marrakesh has something for every traveller – from the luxury lovers to the adventure seekers. In addition to hotels, Marrakesh also offers travellers a more local and authentic accommodation option in the form of riads – a type of traditional Moroccan house with a central courtyard and fountain. Over time, the term has evolved to meaning a guest-house style of accommodation with both shared and private guest rooms.
Here are some of the best hotels and riads worth checking out, with the help of contributing writers and travel bloggers, Taylor from Brown Eyed Flower Child and Alexandra from East Coast Contessa.
Renowned Luxury Hotels
We were lucky enough to call La Mamounia our home during our time in Marrakesh. It offers absolute 5-star luxury in an idyllic surrounding, whilst being within walking distance to most attractions. The hotel staff were incredibly helpful in recommending tours and restaurants, and La Mamounia's spa is the stuff of Instagram legends. I highly recommend it if you are looking for the ultimate luxurious experience.
Here are some other luxury hotels worth mentioning, although I have yet to stay there myself.
Luxury Marrakesh Riads
A Review by Taylor Deer from Brown Eyed Flower Child
From the moment you first walk into Almaha, you'll be awestruck by the dreamy Moroccan lamps in the reception area. In that same room, there is also a bookshelf that opens into what feels like a royal palace. This breath-taking riad features gorgeous Moroccan architecture. There is also an outdoor heated swimming pool; a rooftop terrace with mountain and medina views; a hammam spa with a plunge pool, jacuzzi, steam rooms and treatment spaces; a library and dining room; an art-filled lounge space for a drink and a central courtyard with romantic seating alcoves and lush plants.
Almaha offers 12 beautiful rooms and suites that feature exotic scents of orange blossom, carved cedar wood, a fireplace, gorgeous rugs and polished stone. All of the beds in the riad are dressed in Egyptian cotton and each room features unique details, secret alcoves and some also have access to the private roof terrace or patio.
During your stay at Almaha, enjoy a Moroccan spa treatment in their magical spa room, with the choice of choosing a regular Moroccan massage or a traditional hammam, which is an exfoliation of the entire body. A wonderful thing to note about receiving a Moroccan spa treatment are that they are relaxing and well needed for the body. After a spa experience at the riad, there is nothing better than enjoying a lovely afternoon relaxing in the pools with some mint tea.
Overall, it is totally worth staying at Almaha because you are truly experiencing the best that Marrakech has to offer – from the warm hospitality to delicious food and beautiful rooms to the traditional Moroccan gardens and courtyard that take you back in time.
Check out Taylor's post on Southern Morocco if you plan on spending longer than 3 days in Morocco and are in need of some inspiration!
Other well-known luxury riads in Marrakesh include: El Fenn, La Sultanta and Villa des Orangers.
Boutique Riads
Reviews by Alexandra Booze from East Coast Contessa
Meaning "house of happiness", Riad Ksar Saad & Spa is a haven of relaxation and true Moroccan luxury. Unlike other riads, Ksar Saad is home to a private traditional hammam (Moroccan steam bath) and sauna with massage beds aroma therapies. The largest riad in Marrakesh, guests can choose from 12 non-smoking suites, one of two rooftop patios with city views, an enclosed swimming pool, or a lounge area to sit and enjoy the riad's calming Arabic vibes. Riad Ksar Saad also employs a world-famous chef who serves up Mediterranean dishes daily using local ingredients upon request.
Located in the old city steps from the Saadien Tombs, Riad Ksar Saad is also a stone's throw from other must-see sights. The bustling Djemaa El-Fna Square is a 9 minute walk, and El Badii Palace is a six minute walk. Menara Airport is a short 3.7 miles away by shuttle bus provided by the riad.
With a "home away from home" vibe, the spa is the epitome of clean and comfortable. Warm and romantic lighting by candle sets the perfect scene for a relaxing and professional spa experience. The spa is open from 10am to 8pm and located in the basement of the riad for optimal privacy. Spa services cost extra and appointments must be made at least four hours in advance.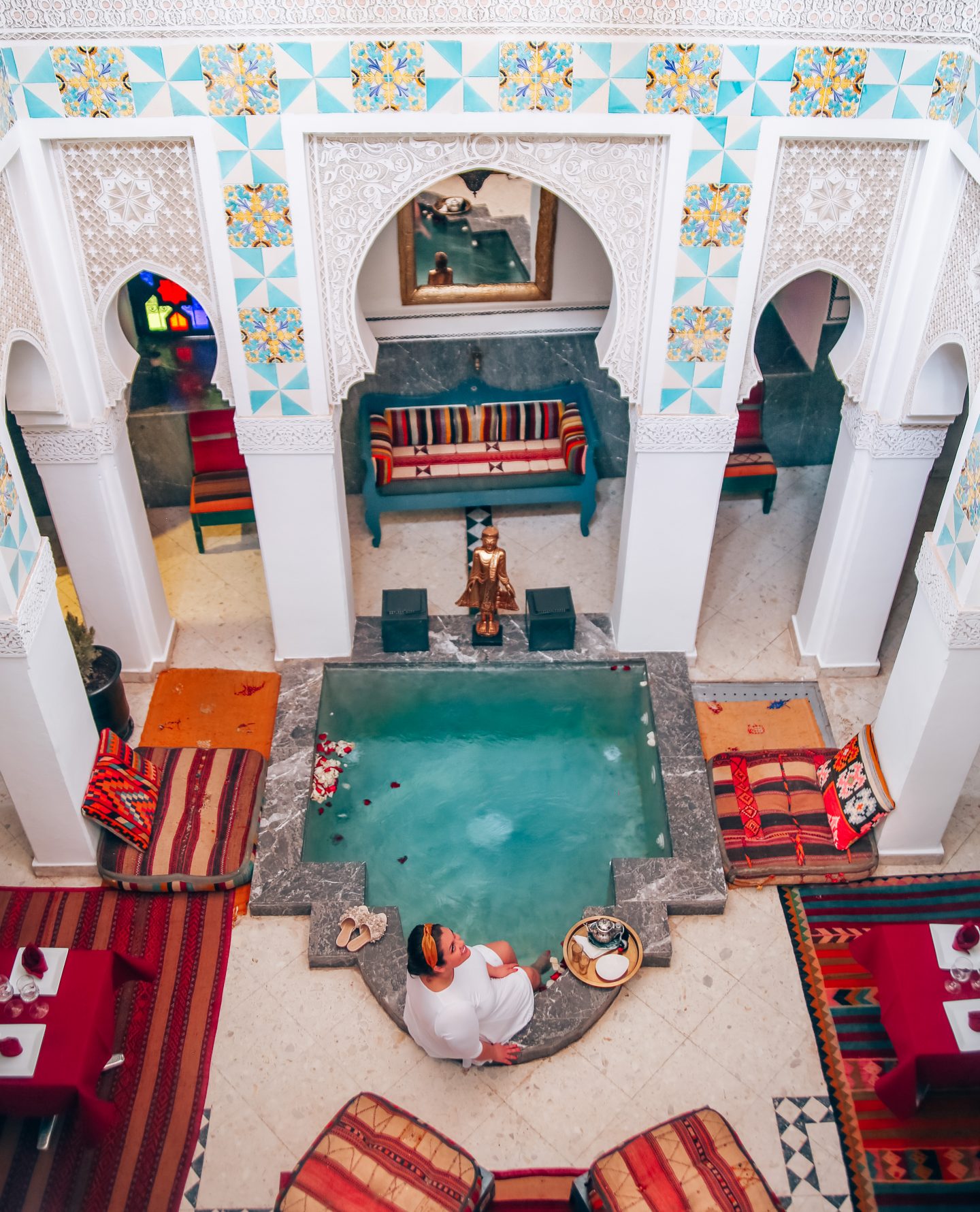 An award-winning, boutique family riad in the heart of Marrakesh's Old City, Riad Tizwa offers an authentic and luxurious experience for all travellers. Inside of it's 3-level storied walls, personalised service takes on a new meaning. Guests are greeted in a lush garden courtyard with a glass of Moroccan mint tea (a sign of welcoming), along with a tray of assorted Moroccan snacks: spiced almonds, dates, tangerines, and Haroset cookies. Moroccan tea can also be served on request throughout the day or evening as Riad Tizwa is staffed 24-hours a day.
A cracking open-air rooftop features a private suite with a semi-private seating area to enjoy breakfast, tea, or fresh-pressed orange juice in the mornings. From here, guests can enjoy views of the Medina for as far as the eye can see.
Located in the heart of Marrakech's Old Town and a stone's throw from the Medina, Riad Tizwa is just a short walk to Djemaa el-Fna Square and Koutoubia Mosque (8 minutes) and many shops and Moroccan restaurants such as the Le Jardin Restaurant. If guests are hungry in the evening hours after dark but are worried about getting lost in the maze of narrow alley ways, Riad Tizwa can arrange for a certified chaperone. Ben Youssef Madrasa is also 10-minute walk, and Marrakesh Menara Airport is less than five miles away.
The riad's hammam offers spa treatments in an unstuffy, relaxed, and authentic environment. The scents of local perfumes, blossoming fruit trees and flowers fill the air — the same scents that can be enjoyed from its garden courtyard. Moroccan soaps and essential oils are used for massages and spa treatments, but guests who choose to forgo the spa experience can still enjoy these items complimentary in each room at Riad Tizwa. Spa services cost extra and appointments can be made ahead of arrival or on-site.
As Marrakesh's first environmentally recognised riad under the international label La Clef Verte, the staff takes every measure possible to ensure the riad's carbon footprint is as minimal as possible. The location allows for safe exploration in Marrakesh's most bustling neighbourhoods, but provides calm and quiet for guests seeking a more relaxed vacation. Airport transportation is also available for 15 dirhams, and can be arranged ahead of arrival or on-site at the riad.
A 3 Day Marrakesh Itinerary
Day I: Exploring the Medina
Day I of our Marrakech itinerary is all about exploring the medina and souks. A word of caution, the souks are not for the fainthearted. They are the largest in all of Morocco and are a labyrinth of exotic market stalls selling all kinds of wears. It is so easy to get lost here, so be sure to hire a licensed local guide who can show you around.
We used Najib Kabbaj – a tour guide who has been guiding tourists through Marrakesh for the better part of the last 40 years. You can reach him by contacting his email address if you are interested in booking his services. Ask him to tell you about the man that got him started as a tour guide – Ringo Starr! He will proudly show you the old photos are proof!
We began our walking tour with Najib through Parc Lalla Hasna, located just minutes away from La Mamounia and named after one of the Moroccan princesses. It's a beautiful park full of greenery and water features, and of course you have a perfect view of the 800+ year old Koutoubia Mosque. Non-muslims are not allowed to go in, but anyone is free to admire from the park. It's a lovely place to just stroll through its two hectares of well-manicured gardens and to stop and admire the fountains.
It didn't take long to arrive at the Kasbah (what some may consider the heart of the old town). You'll recognise the entrance gate from the eagle's nest perched on each side of the wall. The Kasbah was another maze of narrow streets, mostly residential, but there were some vendors selling goods – from vegetables to live hens. Word of warning: be prepared if you have a hard time seeing live animals at butchers; you can always ask your tour guide to avoid them.
Next up: the Saadian Tombs – a mausoleum where around sixty members of the Saadi Dynasty rest, who ruled Morocco from 1549 to 1659. The intricately decorated tombs are surrounded by gardens where their soldiers and servants were laid to rest. The highlight of the Saadian Tombs is the Chamber of Twelve Columns, the most elaborately decorated in all of the necropolis and the resting place of Sultan Ahmad al-Mansur. You'll know it when you see it from the Italian carrara marble and the crowds of tourists. Worth having a quick look around if you have the time and patience!
Following the Saadian tombs, head over to Bahia Palace – a 19th century palace that is considered one of the masterpieces of Moroccan architecture. In fact, it translates to 'palace of the beautiful or brilliant' so expect that hundreds of tourists come to visit each day. This magnificent piece of Moroccan architecture was built by the Vizier of the Sultan, Si Moussa, in 1866/1867, and boasts 150 rooms and a harem. Whilst Si Moussa was originally a slave, his son, Bou Ahmed, rose to power and eventually gained complete control of the state until his death in 1900.
A small entrance fee is charged at both the Saadian Tombs and Bahia Palace, so be sure to bring some local currency with you. Try not to withdraw this from local exchanges as they do not always give the best rates!
From the Kasbah to the souks, this is where the real colour explosion starts. I cannot stress enough how easy it is to get lost in the souks and I'm not sure whether a map will help or make it worse! This is why it is worth investing in a guide. Najib himself admitted that he spent his childhood getting lost in them and that it takes years to learn your way around. We were guided to a number of different stalls worth pointing out.
The first was a traditional apothecary selling all different kinds of oils, lotions and potions. We were warned to be careful of where we purchase oils from as many take advantage of the well-known Moroccan argan oil and try to sell a watered down version at elevated prices to gullible tourists.
From oils to rugs, we were then taken to a beautiful carpet shop where we were served tea and given a display of carpets. I confess, we bought one that now lives in our living room. A fluffy Moroccan Berber rug that our dog absolutely loves rolling around on. Don't be fooled by the fact that these stalls do not look very fancy – they accepted all forms of credit cards and were happy to organise international shipping… but we decided to have the rug dropped off at our hotel and we brought it back on the plane ourselves.
From there we continued our tour around the souks and were guided to the best stalls for lanterns, carved wooden objects, traditional clothing – pretty much everything you can imagine. This whole experience can be a little daunting and exasperating, but here are a few things for tourists to keep in mind:
Don't be afraid to haggle. Haggle hard. If you aren't happy with the price being offered, don't be afraid to walk away. Rest assured they will likely call you back over and offer a lower price. Most of these shops sell similar or identical items and they don't want to lose the sale.
You may be coerced into stalls that you don't really want to see. They can lure you in with free ornaments or tea with the aim of getting a sale. Appreciate that this is how they make their livelihood so just politely decline and keep moving. Never feel pressured into buying something you don't want to buy!
Always ask permission to take pictures – and expect to be asked to enter the shop if you do.
If visiting in the summer months, it can be very crowded and very hot. Be sure to take water with you and visit early to avoid the large crowds. Opening hours of the souks are between 8am and 10am and they close anywhere from 7pm to 9pm – all depending on the store.
Dress respectfully to avoid unwanted attention and always visit with a positive attitude, no matter how chaotic and overwhelming it can seem.
End your tour of the souks by exiting at Djemaa el-Fna – the main square of Marrakesh that is also a UNESCO World Heritage Site. During the day, expect to find juice and water stalls. You'll probably find many beggars with chained Barbary apes and snake charmers. These are protected species under Moroccan law so please don't entertain the beggars' requests for a picture. Read more on this below.
As night falls, the atmosphere of the square changes. Gone are the snake charmers and in come the local storytellers, magicians and peddlers of medicine. The water and juice stalls transform into a plethora of food stalls with seating areas. You will be asked by each and every stall owner to have a seat, and be told that their stall is the best. Just like with the souk, politely decline and keep walking if it's not for you. As smells of exotic foods fill the air and the intensity of the crowds and vendors increases, it was a sign for us to call it a day.
After all that running around, head back to your hotel or riad and have a relaxing meal, before another day of Moroccan adventure tomorrow. One place that is noticeably missing from Day I is the Ben Youssef Madrasa. Unfortunately this was under renovation at the time of our visit, but definitely somewhere to add to the list once it is open!
Day II: A Half Day Activity & YSL Museum
For Day II, we recommend splitting the day in two, by using the morning for an outdoor activity and the afternoon for visiting the YSL Museum and Le Jardin Majorelle.
There are plenty of activities to choose from, but these two are my favourites. The first is a sunset hot air balloon ride over the desert dunes of Marrakesh. With a 4:45am pick-up from your hotel, it's an early start, but worth it to watch the sunrise from the sky. After the hot air balloon ride, you'll be treated to a Moroccan breakfast, before being returned to your hotel at 11am. This will allow you enough time to relax for a couple of hours, before heading over to the YSL Museum and Le Jardin Majorelle.
For travellers who aren't all that keen on heights, you can opt for a Moroccan cooking class, which starts with an 8:45am pick-up from your hotel. Your first stop will be at a local market to collect some ingredients, before being guided on how to make your own tagine. Drop-off back at the hotel is a little later with this option, so you won't have time to lounge by the pool for a couple of hours before the next stop.
When you are ready from kicking back at the hotel, head over to the Yves Saint Laurent Museum and the Jardin Majorelle, which is just around the corner from the museum. Queues for both can be extremely long. Our hotel, La Mamounia, organised the tickets on our behalf and had them sent to our room – if you are given this option by your hotel, then I really suggest you go for it, even if they add on a small charge for it.
The YSL Museum is pretty self-explanatory, but the Jardin Majorelle may be less known. It is a luxuriant and luscious garden, with an equally colourful villa located within the grounds. It was initially built by French painter Jacques Majorelle, but bought by Yves Saint Laurent and his partner in 1980, who saved it from demolition by hotel developers. The new owners went on to live in the villa, which they aptly renamed Villa Oasis.
It's worth noting that Jardin Majorelle can get insanely busy. If your objective is to see it quietly and to take some beautiful images then you need to go early. It was extremely crowded when we went and that did detract a little from the experience. If this is your preference, you might have to move things in this itinerary around a little. Jardin Majorelle opens at 8am and closes at 6:30pm, whilst the museum opens at 10am and accepts final visitors at 5:30pm before closing at 6pm.
A taxi from La Mamounia (just off Djemaa el-Fna) should cost about 10 – 15 Moroccan dirhams – although the taxi rank outside the gardens will tell you otherwise. Stand your ground and just walk off if they try to argue some ridiculous price.
The evening is free to enjoy as you wish. If you didn't already see it at sunset the day before, head over to Djemaa el-Fna to watch how it transforms from fruit and vegetable hawkers to sizzling food stalls. 15 to 20 minutes was all the chaos I needed, before heading to dinner somewhere much more peaceful.
Day III: A Day Trip to the Atlas Mountains
Day 3 is the one day where you have a chance to venture outside of Marrakesh. There are plenty of day trips you can choose from on either Viator or Klook to suit your own interests. We decided to book the Desert Agafay and Atlas Mountains Day Trip via Viator and it my favourite day of the whole trip.
We were picked up from our hotel and taken on a drive to the Berber village of Imlil. Along the way, we stopped at some stunning view points and were given the opportunity to ride some camels. Given that we had done this in the past on desert safaris in the Middle East, we decided to skip this and just say hello to the camels instead. Always make sure that the camels look well-looked before jumping on! From the camel ride location, it was on to Kasbah Tamadot – a luxury resort owned by Richard Branson, where we were given the opportunity to look around the resort and admire the view.
After stopping at Kasbah Tamadot, we continued on to Imlil for a trek with our guide who led us through the high Atlas Mountains, peppered with beautiful landscapes and waterfalls. It was such an enjoyable experience that there's a whole review on our time up in the Atlas Mountains that you might like to read!
After a long day of trekking and exploring, it was time to head back home to our hotel for some rest and our final meal in Marrakesh before heading back home.
Is Marrakesh Safe for Travellers?
There is no place in the world that is 100% safe, but the violent crime rate in Marrakesh is low. There are however, a few things that you should be aware of so that you visit Marrakesh with the right expectations: scams are rampant and tourists are very often the target. Here are some of the most common you might encounter, but hopefully these travel tips will leave you well-prepared for your trip.
Tour Guide Scams
The honest truth is: tourists walking around the medina stick out like a sore thumb. This provides the perfect opportunity for an unlicensed tour guide to try to sell their services. Remember: all genuine tour guides in Marrakesh are licensed and wear badges or display some sort of official identification. Always be sure to book your tour guide from reputable source like Viator or Klook or by asking your hotel concierge to organise it on your behalf. If booking online, be sure to check the reviews to read if it's right for you.
Pick-Pocketing
Just like anywhere else in the world, pick-pocketing is an issue. Always keep your eye on your belongings and keep them close to you at all times. If possible, travel with a bag that fastens. I admit, I travelled with my LV Neverfull tote bag, and whilst nothing happened, a cross-body bag would have been better.
Photo Scams at Djemaa el-Fna
Djemaa el-Fna is a large, busy and chaotic square in Marrakesh's medina quarter. It can be overwhelming for first-time visitors and could possibly put you off Marrakesh. It is definitely a site worth seeing – especially as the sun goes down – but there are a couple of things to look out for. Aside from the fake tour guides and pick pockets, you'll come across women offering henna tattoos. Some may even take the liberty of grabbing on to your arm and offering a freebie (spoiler alert – it's not a freebie). Politely decline and walk away. They may call out after you but try not to engage and just keep walking.
Aside from the henna tattoo scammers, you will also see many snake charmers and monkey handlers. I implore you NOT to take any pictures with them, as cute as they may look. The monkey handlers snatch these poor monkeys from the wild and they are often very poorly treated and abused. The chain around their neck will give it away. The handlers may attempt to put the monkey on your shoulder and ask if you want a photo. You need to be firm and say no.
The same applies to the snake handlers. I've heard horrific stories of these snakes being de-fanged or having their mouth sewn shut. Both cases are animal cruelty at its best (or worst some may argue) but if we all help to cut the demand, supply will eventually stop. If you do feel compelled to report something you witnessed, the guidance given to me by HSI is as follows:
You could reach out to the non-profit group SPANA who has worked in Morocco. They may know more information about local groups working on issues such as this: https://spana.org/about-us/our-work/morocco/
Taxi Scams
The main issue here is that meters are not used and this provides yet another opportunity to take advantage of unassuming tourists. It's worth checking out this article on some of the different kind of taxi scams used, and always make sure to ask the price of your trip before you get in the car. Your hotel concierge can also advise on the average cost for your ride so you know what to negotiate for. Alternatively, confident drivers may want to try their luck at renting a car and driving around Morocco!
Unwanted Male Attention for Solo Female Travellers
If you are looking to go on your very first solo trip and are female, Marrakesh may not be the best place to start. When walking alone through the medina, you may experience some catcalls from local men. Whilst not threatening and likely harmless, my advice is to not make eye contact and keep walking. As with most places, try no to look lost as a tourist and keep your wits about you. Dark sunglasses may also help to avoid eye contact! Having a tour guide with you will definitely help you feel more at ease!
None of this is written with the intention of putting you off, and Marrakesh is definitely a place that everyone should have on their bucket list. It's colourful, enigmatic and will fill you with inspiration. If heading to Marrakesh knowing how to navigate some of the challenges it comes with, you'll be sure to have a great time. I hope this guide has helped in doing just that!
---
Tip: If planning on visiting Morocco for a longer trip, be sure to check out this complete itinerary for the perfect 2 weeks in Morocco.
---
Don't forget to pin this article if you found it helpful, and follow Dukes Avenue on Pinterest for more!
Sarah founded Dukes Avenue in 2018 as a creative outlet while working at a London hedge fund. What initially started as a small blog has become a widely read luxury lifestyle online publication targeted at the modern woman, with content curated to inspire readers to live their best and most fulfilled lives. Sarah has lived in London, Malta, and, most recently, the United Arab Emirates and uses her travels and experiences to inspire much of the content.