Have you ever wondered what it was like to draw back the curtains of the upper class cabins and have a little peek inside? To me at least, it often felt like a hidden world or an exclusive club that only a few were privileged enough to be a part of. Or perhaps you're already an avid traveller who typically flies business/club class and finds themselves wondering … 'is BA First Class worth it?'.
Or maybe this is your first time flying British Airways and you are looking for a first class review, or that little bit of extra info to help you know what to expect from the airline's first class product offering. Whatever your reason for wanting to know more about long haul BA flights and their cabin classes, this article is for you.
This article contains affiliate links
A little bit about my own story first. When I was younger, I never travelled. I grew up in Malta, which is a little cut-off from mainland Europe, and about twenty years ago flights were not as cheap or easily accessible. Whenever a school friend had come back from the holidays and had been somewhere exotic (which in my mind meant outside of Europe), I used to be in absolute awe. Roll on twenty years and my life has changed somewhat and there are months where I feel like I've taken more flights than buses – both for business and personal reasons.
My lack of travel when I was younger spurred an intense desire to make travel a huge part of my adult life, and I am lucky enough to be married to someone that shares my love of travelling the world. I remember the first time I boarded a flight as an adult for what was my first ever holiday to Paris in 2008. It was budget travel at its best (I had yet to learn about places like Maison Souquet) and yet I was so happy to be boarding the plane and to be experiencing a plane ride as an adult. I'll admit that I do really miss that feeling of feeling lucky to fly, as it truly is a privilege.
Naturally, given that I now live in the UK, BA is the airline I travel most and feel most knowledgeable about. After almost 10 years of living in London, I am proud to say that I have flown all four classes of British Airways. I am hoping that after reading this, you will have a little more insight into what you are getting and will be able to make a more informed decision for your upcoming holiday and whether BA first class is worth it for you.
It's probably important to note that throughout the post, I am referring to long haul travel rather than short haul (first class cabins are not available on short-haul flights). All pictures below were taken on British Airways 747 planes.
British Airways Cabin Classes Explained
Cabin Class
Average Cost
Short Haul
Long-Haul
Additional Information
Lounge Access
(*Silver and Gold One World Executive Club Members have access irrelevant of cabin class)
Fully Flat Bed
Inflight Catering
Economy (Euro Traveller)
£
x
x
3 ticket options:
Basic – for the lowest possible fare, no check-in luggage
Plus – includes check-in luggage
Plus Flex – ideal for business travellers whose schedule is likely to change
No
No
No (with the exception of flights to or from London City Airport and London Stansted operated by BA CityFlyer)
Premium Economy (World Traveller Plus)
££
No
x
Not all aircraft operates a premium economy cabin. If this is the case, premium economy passengers are typically upgraded to Club World/Business Class. This has happened to me on numerous occasions
No
No
Yes:
– a complimentary drink before take-off
– seasonal menus using locally sourced ingredients
– choice of three main meals, plus a second snack before landing
– complimentary bar service
Club Europe
£££
x
x
Flights between the UK and Europe
x
No
Club World
£££
No
x
Longer international flights. Includes Club World London City – an exclusive business class service for the financial centres of London and New York (32 fully flat beds only)
x
x
First
£££££
No
x (including Moscow)
The most luxurious flight experience offered by British Airways
First Class Lounge where available.
Concorde Room available at Heathrow Terminal 5 and New York JFK
x
A full restaurant experience with a new à la carte menu and an afternoon tea service
Whilst I would ALWAYS recommend checking for any updates on the British Airways website, the table above is a good reference point for passengers deciding on which cabin class is right for them. Below are the main differences between each of the cabins, based on my own personal experience.
BA Baggage Allowance
Before diving into what you should expect to experience once you reach the airport and eventually board your flight, let's talk a little about how much you'll be able to pack for your trip. This sounds like a fairly obvious one, but I actually know of so many people who ended up paying to travel with their check-in bags because they were unaware of the difference in ticket options.
This is most relevant for economy passengers who may not know that there are actually three options for economy tickets. The most basic of those is intuitively called Economy Basic and note that this applies for BOTH short and long haul flights. Whilst these flights are typically very reasonably priced, there is in fact a reason – you are only allowed to bring a hand luggage with you and by extension, that means one little clear bag of liquids.
You would need to opt for the higher cost Economy Plus or Plus Flex if you intend on bringing check in bags. I won't mention the exact allowances in this article in case they are updated, but you can read all about them here. This is less of a problem if travelling in the higher cabins of World Traveller Plus, Club World and First, where you are allowed at least one check in bag. Again, always refer to the link above directly on the British Airways home page. And if you're looking to buy some new luggage for your upcoming trip, here are a few of my favourites, all at different price points.

BA Pre-Flight Experience
In my eyes, the pre-flight experience is made up of four things – the check-in process, security, waiting to board at the gate or lounge and finally boarding the flight.
For some airlines, there is a fifth – and that is a chauffeur service from your home to the airport. I've experienced this with airlines such as Emirates, where a chauffeur service is provided for business and first class passengers – I'll admit it's awesome. It's an added weight off your mind knowing that there is someone there to ensure you get to the airport on time. Unfortunately though, a chauffeur service is not offered by British Airways, irrespective of the cabin class.
The cabin class will have a relatively large impact on your pre-flight experience. I'm assuming that most of us know the experience when flying in economy. The check-in/bag drop queues, the line at security and the waiting at the gate – although you could of course browse the duty free shops or eat at one of the airport restaurants to kill the time. Note that this is no different when flying premium economy – no separate check-in desk, no lounge access.
When flying in one of the higher cabins though, everything changes. Starting with the check-in process, British Airways offers separate queues for Club World and First Passengers. Club World passengers flying out of London Heathrow Terminal 5 can avail themselves of a separate business class check-in section, which often has a lot less queues. Passengers are then able to fast track through security, again using a separate security area which generally moves a lot faster simply because there are less people. I caveat this by saying there have been those rare occasions where I experienced the opposite.
As expected, the very best check-in and security screening will be experienced by First Class passengers. London Heathrow Terminal 5, which is used solely for British Airways flights, has opened what is known as the 'First Wing' for its First Class guests. It is located on the far right side of the concourse. You can't miss it as it is beautifully done.
Once you have checked in and are through security – even less people than when going through Fast Track – passengers are led straight to the Galleries First Lounge. Within this first class lounge, and only if you are flying in First Class out of Terminal 5, you can make your way over to the Concorde Room or the aptly known 'millionaire's door'. I leave it to your imagination for now but I very much feel that this could be a whole article to itself.
And last but not least, there is the actual boarding process. Introduced in 2017, British Airways now operates a zoned boarding process, assigning each passenger in groups 1 to 5. These operate as follows on long haul and short haul flights respectively:
| | |
| --- | --- |
| Short-Haul Flights | Passengers |
| Group 1 | Executive Club Gold, oneworld Emerald, and business class |
| Group 2 | Executive Club Silver and oneworld Sapphire |
| Group 3 | Executive Club Bronze and oneworld Ruby |
| Group 4 | Economy |
| Group 5 | Hand baggage only fares |
| | |
| --- | --- |
| Long-Haul Flights | Passengers |
| Group 1 | Executive Club Gold, oneworld Emerald, and first class |
| Group 2 | Executive Club Silver, oneworld Sapphire, and business class |
| Group 3 | Executive Club Bronze, oneworld Ruby, and premium economy |
| Group 4 | Economy |
| Group 5 | Economy |
The boarding system is another reason why you should consider joining the British Airways frequent flier program with OneWorld. I had touched on this on another article on how I get to travel more and I would definitely encourage it, especially if you plan to take a number of BA flights in a single year.
BA Seat Differences
The most notable difference between the cabins is the amount of room each passenger gets per seat and more importantly, whether that seat opens up into a fully flat bed. This is obviously a dream on a long haul night flight. Whilst we are all used to the upright chairs that recline only slightly, once you start moving up the cabin classes things get much better.
Premium economy, the first step up, offers a slightly larger chair with footrest, more legroom and more of a recline. The screens are still pretty small depending on the aircraft, but if you find yourself on one of BA's old 747s, you're going to swear – don't be fooled by the pictures on the website, some of those planes are about 30 years old and fortunately are being phased out. The price of premium economy can sometimes be double or triple that of economy, and I don't think that increase in price justifies the additional perks.
Personally, the only reason I would opt for premium economy is if I am part of the airline's frequent flier program. I say this for multiple reasons – firstly, you will earn higher tier points which will help you work up the frequent flier ladder (see the Avios Flight Calculator). Secondly, and as mentioned above, not all planes operate a premium economy service and if there is a sudden change in aircraft that doesn't cater to this ticket, chances are you will get bumped up to business class/Club World.
Business class seats are where things get so much better. The chair is significantly larger, more comfortable and reclines into a fully flat bed. Comfier and larger pillows, blankets and quilts are provided so at the very least, you can get some decent sleep in. You will have to make your own bed though, but this is, after all, very much a first world problem.
Where you really want to be on a night flight is in the First Class cabin. This was a mystery to me up until a couple of years ago and I always wondered how it could get any better than business class, but here you really get the epitome of luxury. The table is bigger allowing more work space, the seat is significantly larger and reclines into a super comfortable flat bed, which cabin crew will make for you. Mattress included!
It is the best sleep you will get on a long haul flight. The question is, is it really worth paying thousands for the added luxury? Probably not. Unless you have no budget for your travels, I personally would rather spend the money at my holiday destination or on a new handbag! That being said, I would definitely recommend using air miles to upgrade and at least experience First Class once in your lifetime – because it is truly an experience.
There are hundreds, if not thousands, of articles online about how you can score free flight upgrades or free flights using points. I personally use a British Airways American Express credit card to rack up my Avios points, but there are many other credit cards that do the same thing. Just select whichever is most relevant to the country you reside in and the airline or alliance program that you want to collect points with.
BA Privacy in First and Club Class
One thing I love about the higher cabins is the privacy you get. Rather than sharing a row with two or three other people who are watching as you fall asleep with your mouth open, in business and first class you really have so much more privacy.
I previously had said that for the most privacy in business class, choose a window seat. This is no longer the case though thanks to the new business class Club Suite, with doors at every seat. This is not yet available on all planes though so be sure to check before booking if this is important to you. When it comes to First, any seat is ideal as each seat is built in its own little suite. If you don't bump into your fellow cabin passengers in the lounge, you are unlikely to see the faces of anyone else in First – which I love!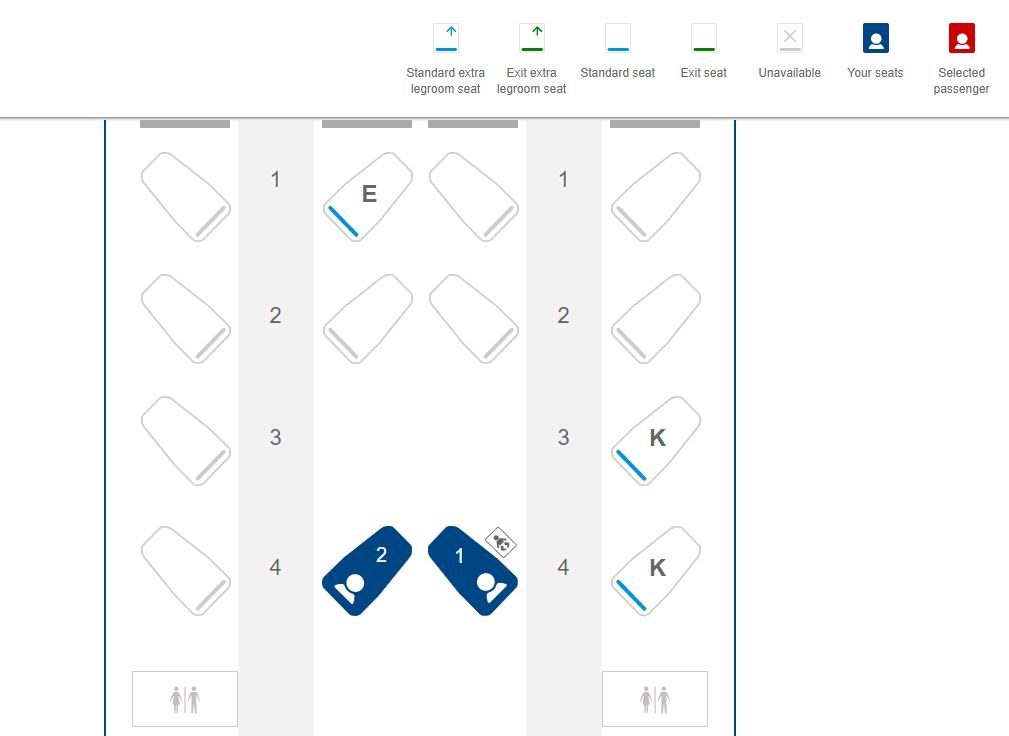 BA Catering Guide
Naturally, being in a higher cabin means the food is somewhat better. Premium economy is actually far superior to the economy options, with a three course meal and breakfast/snack towards the end of the flight depending on your flight time. Two of the three meals served in premium economy are actually featured on the business class menu, which is great.
Moving up the cabins, business class also offers a three course menu. Of course, the First Class cabin offers the best choice of food and wine, and I'm not complaining about the free-flowing Laurent Perrier Grand Siecle. My only complaint is that you are not able to select both a vegan and a gluten-free option, and I was recently told to bring my own food on a 13 hour flight… BA needs to do better on this front, especially if passengers are paying thousands for a ticket.
Food is served at your request, rather than at a set time like in all the other cabins. Everything is done around your requirements, which is great if you fall asleep and want food whenever you wake up. A fine selection of wine and champagne is also available. Again would I pay for this? Unlikely. Would I use points to upgrade to this? Definitely.
BA Cabin Service
The higher up the cabins you move, the more personalised the service becomes. Whereas in economy, you are one of many other passengers which all get the same service, the higher up you go the more attentive cabin crew are to your needs. In First, cabin crew treat you as though you are the only passenger on the flight. My bed was made as I brushed my teeth, my glass was never empty and I never went without food. The purser of the flight also welcomes you aboard personally!
BA Amenities
The pictures above pretty much speak for themselves and are what you would receive in business and first class seats respectively. The first being amenities from The White Company and the second from Aromatherapy Associates. Both are sweet mementos of your trip and I love the little Liberty pouch! I will admit, I've collected a few over the years and they each have different patterns. The options for economy passengers are a lot more limited, however you are provided with headphones, a toothbrush and toothpaste. I've written a whole article on my own plane essentials that you might want to read.
Within the First cabin, pyjamas are also offered in a variety of sizes along with slippers which are provided upon request. Each seat also has its own little wardrobe where you can hang your clothes during the flight.
In Summary: Is BA First Class Worth It?
To sum it all up, my personal view is that business class is a happy medium if you want to travel in a whole lot more comfort, whilst premium economy just doesn't quite do it for me. The difference between ten hours in an upright chair vs ten hours on a flatbed can make all the difference to your holiday.
First class flights are obviously wonderful but definitely one to use your air miles on rather than buying outright if your annual travel budget is not within the six figure mark. What are your thoughts on this? Would you be willing to pay to fly in First for the added luxury or would you rather fly economy and spend the money on future holidays. Share your thoughts in the comments!
---
FIND YOUR NEXT FLIGHT HERE
---
Don't forget to pin this article if you found it helpful, and follow Dukes Avenue on Pinterest for more!
Sarah founded Dukes Avenue in 2018 as a creative outlet while working at a London hedge fund. What initially started as a small blog has become a widely read luxury lifestyle online publication targeted at the modern woman, with content curated to inspire readers to live their best and most fulfilled lives. Sarah has lived in London, Malta, and, most recently, the United Arab Emirates and uses her travels and experiences to inspire much of the content.