It all started when founder of La Mer, Dr. Max Huber, set out to create the best possible skincare to improve his skin, after suffering severe burns in a lab accident. Twelve years later, and the result is the legendary Crème de La Mer, a cream that has become a favourite amongst celebrities and skincare lovers alike, and one that has firmly cemented itself in the upper echelons of luxury skincare.
In previous years, the La Mer advent calendar sold out within a few minutes of being launched; and with the amazing products in this year's calendar, we can only assume that the same will occur this year. Here's everything we know about the La Mer advent calendar 2021.
The La Mer Advent Calendar 2021 – What You Need to Know
2021 marks the 4th year for the La Mer Advent Calendar, and once again, they have opted for a beautifully decadent box of the highest quality. The advent box for this upcoming holiday season is decorated in rich shades of green and gold, giving us all the traditional Christmas vibes. Can you think of a more perfect gift for a lover of skincare?
Just like the La Mer Advent Calendar 2020, this year's calendar is once again a limited edition collectible piece, and judging by how quickly they sold out last year, you're going to want to act fast. Remember this one really is the epitome of luxury skin care advent calendars, and a lot of people have their eye on it!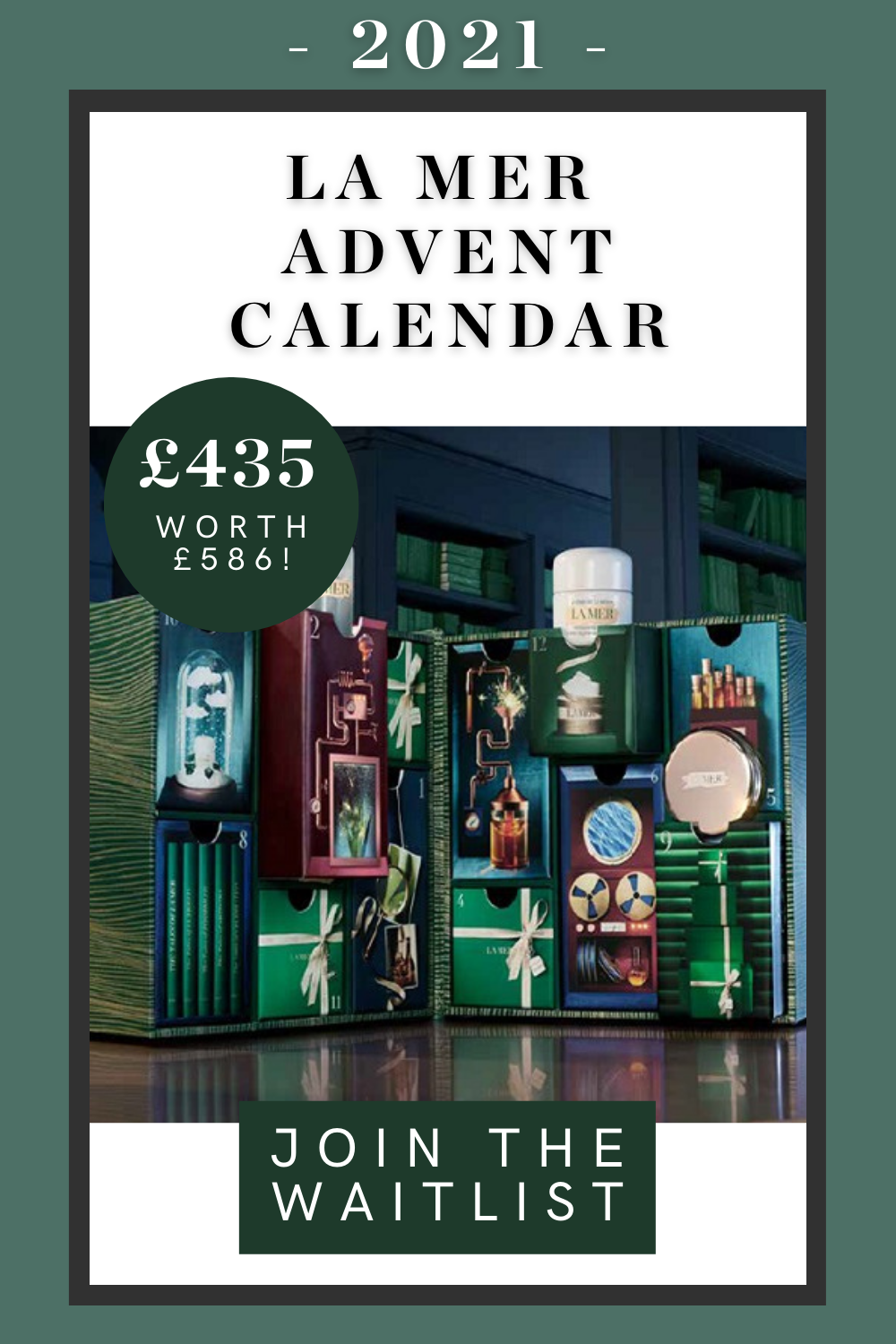 What's Inside?
Inside this little box of luxury are 12 boxes, each with a beautiful design on the outside and a range of travel size and deluxe size products on the inside. Some of the items come in 15ml or 30ml sizes, which make them perfect for sampling La Mer products that you have yet to try. This year's items include:

Pricing & Value
The La Mer Advent Calendar 2021 will retail for £435 (just a slight increase of £35 on last year's price) but is filled with products worth £586.
The calendar is now available for purchase from the official La Mer website, and will be available for purchase from Selfridges or Harrods in London from October 11th, however this is subject to change. Don't forget to click the button below and enter your email address to be notified of the best advent calendars launches that 2021 has to offer.
---
If still searching for the perfect advent calendar, be sure to check out the Dukes Avenue guide to the Best 2021 Beauty Advent Calendars this holiday season, featuring some makeup and skincare favourites like the Cult Beauty Advent Calendar and the latest advent calendar from Charlotte Tilbury, Charlotte's Beauty Dreams & Secrets.