Me watching documentaries, and learning about what the world has to offer, is dangerous. At least for my bank account. It was around December time when the BBC aired their Christmas Special of 'Amazing Hotels: Life Beyond the Lobby', featuring the Kulm Hotel – one of the leading hotels in Europe.
I had written in a previous post about how I never felt the need to go skiing (and if you're anything like me you might want to give my ultimate ski guide for first-timers a read), but after seeing the documentary and learning more about this wonderful St. Moritz hotel, I figured it's now or never. I went on to run a quick search for good deals, and sure enough I stumbled across the resort's 'Ski Special'. It offered two nights at the Kulm on a half board basis, ski passes for two days and use of the ice skating rink. I did a quick check of booking.com reviews and after confirming it was highly rated, I was sold.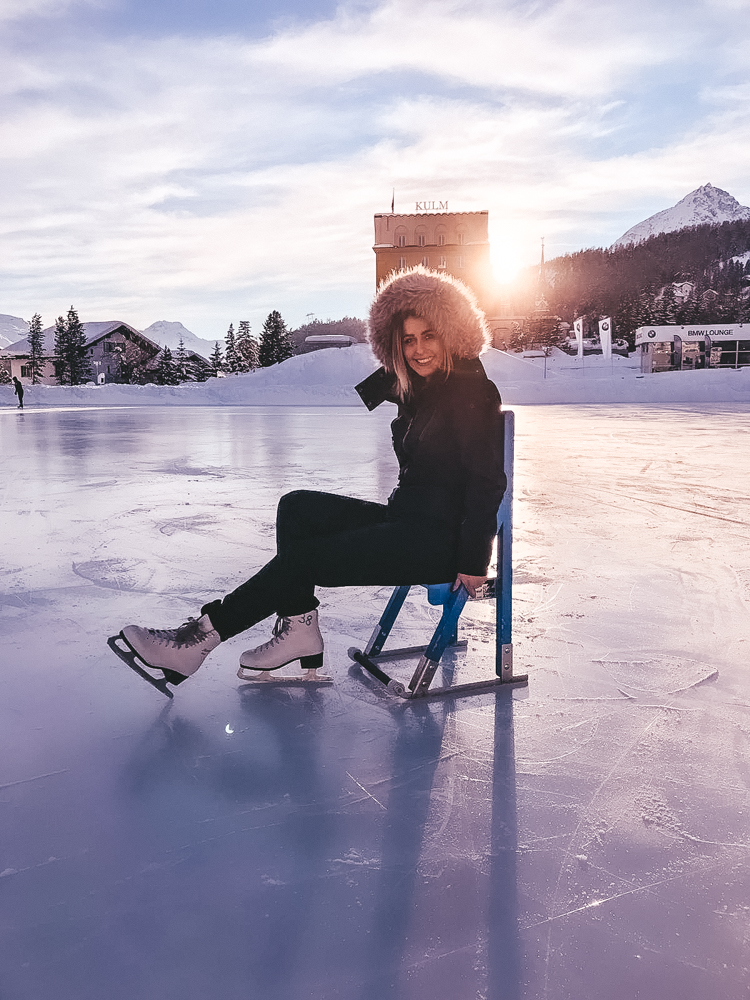 Travel to St Moritz
Next thing I know we had booked flights to Zurich and were on our way to our first ski adventure. I'll admit that St Moritz is a little bit out of the way and not the easiest destination to reach. The best places to fly to are either Milan or Zurich, and then you can go on to make your way to St Moritz either by car or train. We flew into Zurich and rented a car, and the drive took about 3 hours overall. I believe it takes roughly the same amount of time from Milan.
Admittedly, the drive and views were incredible. Just before reaching St Moritz, drivers have the joy of experiencing a windy, serpentine-like mountain road covered in snow. It was truly one of the most ethereal sites I have seen in my life. Everywhere was white and I felt like I was in a James Bond movie. In fact we had a compilation of 007 soundtracks playing in the background. After about three hours of driving through what felt like heaven, we pulled up at the historical Kulm Hotel.
Before I go on from here, I do want to highlight that there is also the option of taking a train, which I hear is equally picturesque. And if you have no budget when it comes to travelling in complete luxury, you can fly by private jet into Engadine airport, which caters solely to private chartered aircraft. I've covered traveling to St Moritz in a lot more detail in my article on the Kulm's sister hotel, the Grand Hotel Kronenhof, in the nearby town of Pontresina.
The Kulm Hotel St Moritz: Basic Information
Hotel Star Rating
*****
Address
Kulm Hotel, 7500 St. Moritz, Switzerland
Location
Located in the heart of St. Moritz Dorf (Upper Engadine), Canton of Graubünden, Eastern Switzerland. 6km away from Pontresina.
Transport Links
Car: Guests are offered a free transfer with the hotel's limousine service from and to St. Moritz train station (15 minutes' walk)
Train: Rhaetian Railway
Air: see note below
Nearby Attractions
Lake St Moritz, Bernina Express,
Diavolezza, Alp Languard & Muottas Muragl.
Distance from Airports
Engadine Airport: available for private flights ONLY. The airport also offers air-taxi transfers to national and international destinations.
Zurich Airport: 3 hour drive
Suitable for Families
Yes
Pets Allowed?
Yes
Hotel Parking?
Yes
Smoking Rooms?
No, all rooms are non-smoking, however the hotel does offer the Miles Davis cigar lounge where smoking is permissible.
Contact Information
Phone: +41 81 836 80 00
Email: [email protected]
Website: https://www.kulm.com
The History of the Kulm Hotel
It's probably worth starting this article with a little bit of history on Engadine and the Kulm. Most importantly, it is birth place of winter holidays as we know them. It all started when Johannes Badrutt bought the the 12-bed 'Pension Faller' in St. Moritz, and upgraded it into a hotel with the name Engadiner Kulm (today's Kulm Hotel).
One evening, he was sitting by the fire with four English holiday guests and made what has now become an infamous bet. He spoke about the snow-covered winter idyllic of Engadine and how it has so much to offer. He encouraged his guests to return in December and promised that he would reimburse their travel expenses if they did not enjoy their winter holiday in Engadine. Needless to say, the guests stayed until Easter and returned to London to spread the word about the wonderful winter holiday they had in Engadine. Thus the concept of winter holidays was born.
In addition to all of this, Badrutt was fascinated by technical innovations and bought a lighting system at the 1878 Paris World's Fair . He had a small power plant built near his hotel, and on July 18, 1879, the first electric arc lamps in Switzerland burned in the dining room of the Kulm Hotel.
Now that we've gone through the history of the Kulm, it's time to actually check out what the hotel has to offer, and I wanted to make this really picture heavy, as we all know that there's a thousand words to a picture. I believe that every great hotel is made by its staff, and the Kulm was no different. Of course, the Kulm is renowned for five star luxury and the service has to match up to it.
As we drove up to the entrance of the hotel, we were greeted by the doormen, who kindly took the keys to our car so that they could park it nearby. They also assisted in taking out all our luggage and skiwear. In the meantime, we were ushered to the front desk to check ourselves in. It was then that I heard the magic words that are so rare – 'your room has been upgraded'. We were over the moon and when we were handed the large, old fashioned key complete with navy key tassels, we were pretty excited to check it out.
We walked through the opulent yet cosy lobby, complete with fireplace and sweet little seating area and a stunning view of the lake. It is here that the Kulm serves afternoon tea to guests. Our room was in the old part of the hotel, which also happens to be where the Presidential Suite is located.
The rooms are classic and contemporary and approximately half are newly renovated in alpine chic style by the famous interior designer Pierre-Yves Rochon. The other half remains classic, with darker colors and a lot of local Swiss pinewood. The images showcase both a Junior Suite, as well as the Presidential Suite and its gorgeous bathroom. The views do not disappoint either, with further views of the snow-topped Engadine valley and neighbouring Badrutt's Palace Hotel.
Aside from the beautiful rooms, the Kulm spa has one of the most spectacular pool areas I have ever had the pleasure of visiting. It has all the standard things you would want in a luxury hotel spa such as sauna, steam room (clothed and not clothed!) and a lovely large indoor pool, along with the spa treatments you would expect from a leading ski resort.
What it does have that other hotels do not is the most spectacular outdoor pool that is heated to exactly 35C. It was such an incredible feeling to be swimming outdoors in -17C, yet to feel so warm! Nothing better after a day of being freezing up in the mountains. The hotel also has a gym which overlooks this pool, as well as the lake and mountains. You can just about catch a glimpse of it here in the first picture.
Aside from the skiing, there are a whole host of activities that guests can enjoy. Right next to the hotel is the Kulm Country Club – the spot where medal ceremonies during the Winter Olympics of 1928 and 1948 took place.
Nowadays, this is a huge skating rink that guests are able to use free of charge. There is also a curling field! If you don't know what that is, best google it. I only learnt that this was a sport in the last couple of years or so. That being said, if winter sports are not really your thing and you would rather visit in the spring or summer, why not check out the Kulm's nine hole golf course – again, free of charge for guests. No matter the date or time of year that you choose to visit the Kulm, there are always activities to entertain.
Last but not least, no hotel would be complete without a selection of restaurants that serve world class food. A buffet breakfast is served every morning at the Grand Restaurant, an exquisite dining room which doubles as a great place for an evening meal. Men are required to wear jackets for dinner – any excuse to dress up!
My personal favourite was our meal at Sunny Bar, a Peruvian restaurant with sumptuous food. Being strictly gluten, dairy and meat free, I am not always able to eat well during my travels – this was not the case. Sunny Bar was fantastic as chef Claudia Canessa is coeliac herself, therefore does not cook with gluten and uses very little to no dairy in most of her dishes. Click here to find out about the rest of the hotel's amazing eateries – it's unfortunate that I was only there for 2 nights, as I would have loved to try the rest of them!
So if you are looking to have your first ski adventure and are looking for experience a ski holiday in true luxury, St Moritz, and specifically the Kulm should definitely be on your list of candidates – from the powdery snow, to wide and spacious slopes for skiing, to sheer luxury at the hotels. Why not stay at the place where it all began, over 100 years ago!
---
BOOK YOUR STAY AT THE KULM HERE
---
BOOK YOUR CHARTERED AIRCRAFT
---
If you plan on travelling to St Moritz to enjoy the ski season, you may also want to check out my article on the Kulm's sister hotel, the Grand Hotel Kronenhof, in the nearby town of Pontresina.
If it's your first time skiing, be sure to check out the Dukes Avenue ultimate ski trip packing list before you head off!
---
Don't forget to pin this article if you found this article helpful, and follow Dukes Avenue on Pinterest for more!