This post is all about how to create your own ski trip packing list for your upcoming ski trip!
My ski adventures all began after watching a BBC documentary on the Kulm Hotel in St Moritz. It looked incredible and seemed to have a such rich history as the birthplace of winter holidays, so I thought what better place for a first ski trip? Within a few days we had booked our flights, confirmed our stay at the hotel and were all set for our ski holiday.
Admittedly, it wasn't the temptation of skiing that did it, but the beautiful hotel. I'll be the first to admit, the thought of spending the day in a squat-like position, the ease of sustaining an injury and the freezing temperatures, quite frankly, did not sound appealing. I'm more of a beach girl. That being said, so many people around me always raved about their ski trips and it was about time that I understood what all of this was for.
I'm now sitting on my return flight back to London, and thought what better use of my time than to write down everything that I felt over the past weekend on my ski holiday, and try and give some insight to those who have never skied before, as well as to those who have just booked their first trip and don't know what to expect. Here it is – the Dukes Avenue Ultimate Ski Trip Packing List!
This article contains affiliate links
2019 Disclaimer: I stress I'm no expert, and everything I write here was about my experience in St Moritz.
2020 Disclaimer: This also applies for any updates made this year! Although my hotel was in Pontresina, we were still skiing on the same slopes. Pontresina and St Moritz are just a few minutes away from each other.
---
A Ski Trip Packing List for Beginners: What to Buy
Naively, after booking the holiday, I thought I would just get up and rent everything when I arrived at the resort. Wrong. You need to be super organized when it comes to preparing your ski holiday packing list.
Fret not, this article will cover exactly what you need to include on your own ski packing list, what you should buy and what you should rent!
Ski Goggles
My advice is to buy these ahead of your trip. Whilst they do sell goggles at the snow resorts, the selection is limited and the prices are often inflated. If it's your first trip, and unless you've just won the lottery or have a large budget, don't spend a fortune on these.
They are gonna be running around with your ski wear, you'll have a lot to carry and chances are they will get scratched or scuffed. Mine did, but at least I only spent around $25 on them so wasn't all that bothered).
That being said, I can fully appreciate that we are all after something different, so below are a range of ski goggles at different price points to suit everyone. If you'd like to dive deep into the world of ski goggles, I would recommend checking out this article by unbiased eye care experts.

Base Layers
Of course, you'll need high quality ski pants and ski jackets, and we'll get to those soon – but you will need to wear something underneath these. Whilst the base layers do provide an extra layer of warmth, their main purpose is to absorb your sweat so that you remain fresh and comfortable whilst you are active on the slopes.
Just like with the ski goggles, there are different price points for base layers and I've tried to give a mix below. On my most recent trip, I loved wearing my SilverTech leggings from Organic Basics. Not only are they excellent quality, but they are made with recycled nylon and treated with Polygiene so you are guaranteed to stay fresh.

Ski Outerwear
Two options here – either a ski jacket and ski pants/ski salopettes or a onesie like I'm wearing in my pics. The onesie looked great, but was a total pain when it came to using the restroom. On the other hand, ski jacket and trousers means you may get snow inside your clothes when you fall (and you will fall).
I think a happy compromise is ski jacket and trousers, with a thermal onesie underneath. Another tip for your convenience, try to get a ski jacket that has a zip on the cuff to put your ski pass or lift tickets in – I'll explain later).
Here are some of my favorite pieces. I've tried to find a mix of all price points, but the reality is that most ski wear is quite expensive. Be weary of paying low prices that are not marked down for ski gear as you really do need good quality pieces that you can use year after year and that will keep you warm and protected.



Ski Socks
A little thicker than your normal socks to keep your feet nice and snug in your ski boots. Depending on how long you're skiing for, you'll need at least two pairs.

Ski Neck Scarf or Neck Gaiter
I don't think this is absolutely necessary, but you may want to have one. I personally feel the base layer is sufficient, especially if it has a high collar.

Gloves or Mittens
Try to get gloves or mittens with an elastic strap that wraps around your wrist. You'll be taking the gloves off and on for a whole load of reasons – because of this you'll want to have them dangle from your wrist for easy access. I bought gloves that were a little too small for me and they did not have a strap and I regretted it, a lot.
This year however, I realised that you can actually buy a leash to attach to your gloves if you already own a pair. I've linked it below. For those that want to do a whole lot more reading on what to look for it ski gloves or mittens, check out this VERY in-depth article.

Snow Boots
Next, you'll need to get yourself a pair of waterproof ski boots. I got mine from Moon Boot and they were perfect! Fleecy on the inside and super warm, yet non-slip and waterproof for walking in snow. Unfortunately, these are from last season and are now sold out, so I've selected my favourites from this season.

Of course, you'll also need the usual gloves, beanie, scarf, sunglasses and lip balm that you typically take with you whenever you travel to any cold weather destination. Last but not least, there is nothing better than ending a long ski session with a trip to your hotel's spa. Don't forget to pack your bathing suit!
Snow Gear Hire
The above is everything you'll need to buy ahead of the trip, but we are not done yet. Once you arrive at your ski destination, you'll need to grab yourself a pair of skis or a snowboard, ski boots, poles and a helmet. I might even suggest buying the latter if you intend to go often.
We had a bit of a debate as to the length of the skis. We were given very short skis by the ski rental shop and were told that these are ideal for beginners, until you get used to not crossing the skis over each other. We were also told that instructors, on the contrary, recommend longer skis as it's harder to learn with longer ones, and therefore means the skier requires more lessons.
I'm not sure what the truth is as I'm no instructor, but from my research, skis should be roughly the length of the floor to your chin. Yes, shorter skis may be easy to avoid crossing over, but you might not get the power you want when you need to stop or gather speed.
Where to rent your ski and snowboard gear? St Moritz is crazy expensive. It was therefore recommended that we rent our ski equipment from Pro Ski Rental in Thalwil, Zurich, and take it with us to St Moritz in our rental car. It was literally half the price. The catch 22 is this. You will need to move your skis from your hotel's locker room, to the mountain. The hotel will likely provide a van to transport you, however once you are at the entrance, you will need to carry them on the funicular to the top of the mountain.
The struggle is real – I was defeated before I even got to the mountain. Bear in mind, you're not just carrying your skis, but the poles, your ski boots (unless you put them on at the hotel), your camera (at least in my case), mobile and any items of ski clothing that you thought you'd put on at the top (see why the strap on the gloves comes in handy?).
Of course, you can avoid all of this stress, by renting your skis at the top of the mountain. This comes with a high premium, but if you're a little precious (and I'm not ashamed to say that I am), this will make your life a whole lot easier.
Update: for our ski trip in 2020, we decided to make life easier for ourselves and rent everything from the ski shop near the slopes. We also decided to take our rental car to the slopes instead of the hotel's airport shuttle. These two little changes made the whole skiing experience so much more enjoyable.
Another tip for my fellow newbies. At first, ski boots are uncomfortable. They are hard, your feet won't be used to them, your shins will end up bruised and this will only result in more discomfort. You'll see a lot of people wearing their ski boots from the hotel, straight to the mountain. Obviously, we thought we would do the same.
If you are new to skiing, I recommend taking your waterproof snow boots with you and changing at the mountain. You won't be skiing on the usual slopes as a beginner and therefore won't get very far on the skis. If you therefore need to walk from one viewpoint to another, you're not going to be able to do it in your ski boots. After all, they are not made to hike.
By day 3 I was a lot more comfortable in the ski boots and could now tolerate the bruised feeling in the shins, but I still do not regret bringing my normal boots along with me.
I mentioned earlier about finding a ski jacket or onesie with a zip on the cuff. You'll need a ski pass to get to the top of the mountain, and this is often a card that you'll need to tap against the gate. If you are carrying your skis, boots, have to take off your gloves, unzip your side pockets to fish your ski pass out – you get the drift – you'll end up dropping (or throwing) everything and giving up before you even started.
Having that handy cuff pocket means you don't have to take out your card, but rather just tap your wrist to the gate with relative ease.
Do You Need Ski Lessons?
If you never skied before, or maybe you have but it's been a while, then yes, you do. Don't be a hero. Book lessons ahead of time with a teacher that speaks your language. Learning to ski (or skiing in general!) is not easy at first and you need proper instruction on how the skis work, how to stand, how to brake, how to fall even! No amount of videos can prepare you for the feeling once you are actually skiing.
The bottom of the ski is flat and very smooth and it's easy to underestimate how fast you will slide down the mountain. If you are not prepared for this, and do not know how to break, you are setting yourself up for injury.
I thought I could do it on my own on day 2 – but I thought wrong. I ended up booking a lesson on day 3, and went from barely being able to walk, to controlling my speed down steep slopes. It's all about knowing the techniques – once you know them, the feeling of gliding down the slopes surrounded by stunning scenery is breathtaking. It was only then that I got what everyone was on about when they spoke so highly about their ski holiday.
Another tip for first time skiers, two to three days is not enough. I recommend going for at least a week to get sufficient practise to build on, with ski lessons for around 2 hours a day. After that, you will likely be exhausted and you won't take in further knowledge.
Lastly, be sure to know the color codes for the slopes: blue is beginner, red is medium and black is difficult. My husband picked up skiing really quickly and decided to attempt a blue slope on day II – he admitted this was a mistake. Just because it's blue, it does not mean it's easy for a complete beginner.
I hope the above was useful for anyone thinking about a ski holiday in the near future. As much as it sounds like a bit of a faff, the whole experience is really quite beautiful once you get the hang of it all and know what to expect.
You will see some of the most ethereal views you have ever seen, and everywhere covered in white snow is just so picturesque. Of course, there is always the après ski to enjoy – the socialising over a mulled wine after your ski session, surrounded by incredible natural beauty.
---
If you found this ski trip packing list useful, check out my other travel tips, with useful guides on how I get to travel the world and plane essentials I can't fly without.
And if you too are looking to book your own ski holiday in St Moritz, check out my hotel reviews on the Kulm and the Grand Hotel Kronenhof – luxury ski resorts for the perfect Winter Wonderland.
---
Don't forget to pin this article if you found it helpful, and follow Dukes Avenue on Pinterest for more!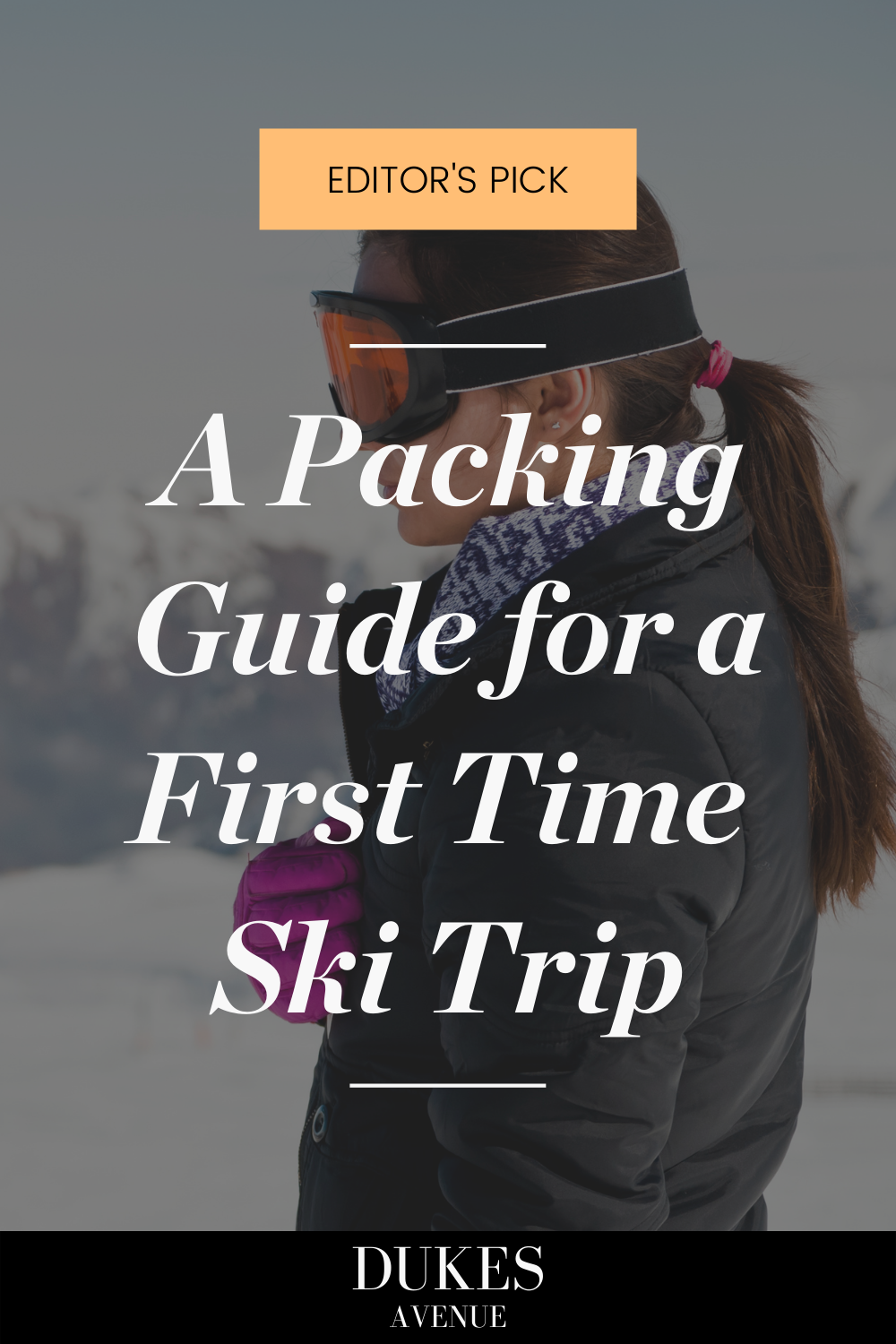 Sarah founded Dukes Avenue in 2018 as a creative outlet while working at a London hedge fund. What initially started as a small blog has become a widely read luxury lifestyle online publication targeted at the modern woman, with content curated to inspire readers to live their best and most fulfilled lives. Sarah has lived in London, Malta, and, most recently, the United Arab Emirates and uses her travels and experiences to inspire much of the content.