It already feels like a lifetime ago, but it has only been three weeks since I returned home to London from Uzbekistan, and just over four weeks ago that we packed up our things and headed off to Central Asia for what we knew would be a memorable trip. A country that was completely new and foreign to us, and that lack of understanding on our part did make the planning of it all quite daunting.
We were able to catch a direct flight to Uzbekistan from London Heathrow, and that meant that we would start and end our trip in the capital, Tashkent, the most metropolitan out of the cities we visited in the country. The recent lifting of visa restrictions for a number of countries means that Uzbekistan is now receiving a huge influx of tourists from across the world and the capital is becoming more and more savvy as to how to cater to those that are looking for that luxury stay.
When we did our research on where we would be able to get the most comfort at both the start and end of our trip, there was only one option that popped up again and again. The Hyatt Regency Tashkent. We know how we like to travel, and what we expect from the hotels we like to stay in. It became clear to us early on in our stay that the Hyatt Regency Tashkent understood exactly what we were looking for: luxury, comfort, familiarity and pampering and I can honestly say they delivered on all fronts. Staff were so friendly and accommodating that it made such a difference to the start and end of our Uzbekistan journey.
This article contains affiliate links
The Hyatt Regency Tashkent: What You Need to Know Before Booking
Hotel Star Rating
*****
Address
1 A Navoi Street, Tashkent 100017, Uzbekistan
Location & Nearby Attractions
In the heart of Uzbekistan's capital, within walking distance of Amir Timur Square and Hotel Uzbekistan
Closest Underground Station/Metro/Subway
Mustaqillik Maydoni Metro Station
(12 minute walk away)
Other Transport Links
Car: rather than renting, it is advisable to hail taxis from the street or via Yandex app
Distance from Airport
10km (approx. 20 minute drive)
Suitable for Families?
Yes – perfect for families, as well as business travellers
Pets Allowed?
No
Hotel Parking?
Yes, free parking is available for guests
Smoking Rooms?
Designated smoking areas
Contact Information
Tel: +998 71 207 12 34
Email: tashkent.regency@hyatt.com
Website: https://www.hyatt.com/en-US/hotel/uzbekistan/hyatt-regency-tashkent/tasrt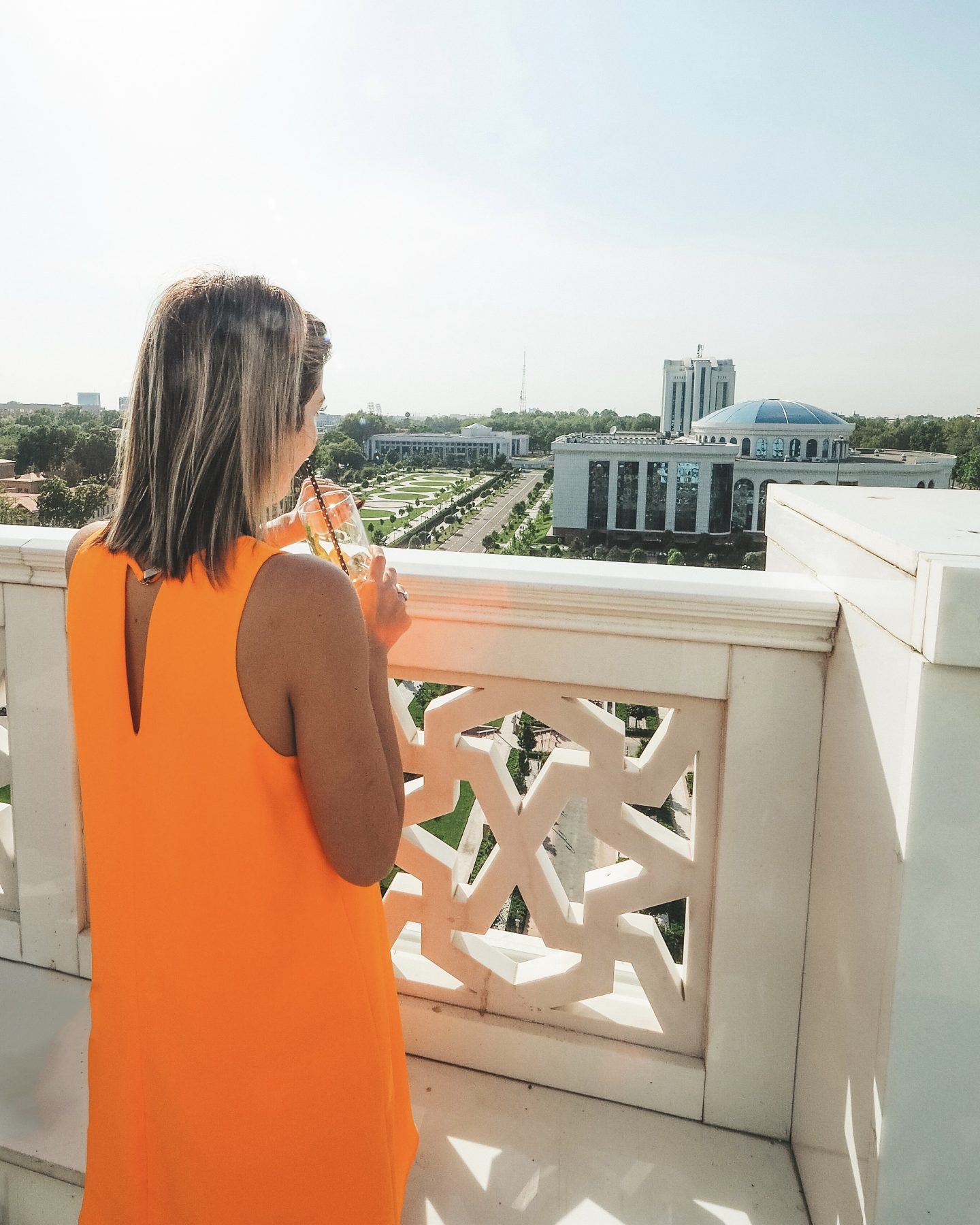 The World of Hyatt
Before talking about the hotel itself and its wonderful staff, I want to spend a little time talking about the World of Hyatt and the hotels that fall within the brand. Overall, there are 18 different brands within the Hyatt portfolio, each focusing on a specific type of consumer – meaning there is something for everyone. At the uber luxurious end of the spectrum, we find Park Hyatt. With only around 50 properties globally, and all of them being located within the world's busy cities.
If you're looking for a lifestyle brand that incorporates the local culture and style into the property, then the Hyatt offers Andaz – perfect for anyone looking for that authentic local feel.
The Hyatt Regency falls within the upper end of the spectrum, catering to both business and leisure travellers alike. With around 200 properties worldwide, this brand is focused on providing a premium service to those young at heart vibrant guests who are either looking for a central location, to attend conventions or a hotel that is close to airports.
Whether you have arrived in Tashkent via plane (at Islam Karimov Tashkent International Airport) or train (at Tashkent Central railway station), the journey should take 20 minutes or less. The airport is a mere 10km away and the train station just 7km. Taxis are available outside both the airport and the station, just be sure to agree your price before getting in the car as most taxi drivers. You can find more information about getting around in Uzbekistan in my 10-day Uzbekistan itinerary.
If you would prefer to have everything organised ahead of your journey, the Hyatt Regency Tashkent offers an airport shuttle to all guests, along with car rental and a private limousine service. All can be booked by contacting the concierge ahead of your visit.
A Luxury Hotel in Tashkent
The Lobby
The hotel is situated right in the middle of town, with a lot of the main attractions within walking distance. It is one of a handful of true luxury hotels in the country – this may change as tourism in Uzbekistan increases, but at the time of our visit, it's safe to say that it was the best. We drove up to the hotel site and were delighted by the huge intricate white building we were faced with. We walked in and immediately felt at home. Greeted by name by multilingual staff, it was almost like walking in to a family home where you are familiar with everyone present. The lobby has been luxuriously decorated, with no expense spared.
The Most Luxurious Rooms in Tashkent
We were led up to our room on the 3rd floor, to a beautiful suite that is larger than some London apartments. The hotel room came complete with floor to ceiling windows, a large double bed (although twin beds are available too), a luxurious bathroom with his-and-hers sinks and a walk-in rain shower and separate bathtub. A large walk-in wardrobe was the cherry on the cake. TVs could be found in both the bedroom and living room area, and needless to say, air conditioning throughout.
It's worth pointing out that whenever you book a suite, it includes access to the Regency Club Lounge on the sixth floor, serving complimentary evening cocktails and hors d'oeuvres.
For those looking for the epitome of luxury, check out The Presidential Suite. I was lucky enough to be given a tour and I can truly say, with hand on heart, that it was absolutely exquisite. Located on the 6th floor, with marble decor and beautiful wooden flooring, The Presidential Suite might be somewhere that I use for inspiration when I come to decorating my own dream home. We were led into the double door entrance, and started on the right-hand side. We walked into an open-plan TV area and office desk, with sliding doors that open onto an eight-seater dining table with views of Tashkent.
The suite is perfect for those travelling with children or personal security, as it offers a connecting room leading off the dining area. Exiting the TV area and entering the bedroom, we continue with that luxurious marble and wooden feel throughout. Naturally, the room hosts a comfortable double bed, along with an ample-sized wardrobe, leading on to a superb bathroom. I say that for a reason – it's not everyday that you get to have a shower with it's own in-built hammam. Bathroom amenities across all 300 rooms in the hotel are L'Occitane.
Hyatt Regency Tashkent Spa and Gym
As with any five star hotel, guests have access to a 24-hour fitness center and spa, complete with swimming pool, sauna and hammam. The hotel spa is dreamy and will definitely be appreciated after almost two weeks of extensive travel. On our last day in Uzbekistan, we treated ourselves to a massage, and then spent our the morning just chilling by the indoor pool.
Hyatt Regency Tashkent Restaurants
Last but not least, the hotel is proud of its two in-house restaurants – Khiva and Sette. Khiva for those looking for authentic traditional Uzbek cuisine and Sette, an Italian restaurant for those wanting something new. Remember that Italy is pretty far away from Central Asia, and a lot of local business travellers want diversity: to be able to eat food that's different to what they are used to. It's also worth pointing out that I have a number of food groups that I can't eat, and both restaurants went out of their way to cater to my requirements.
In each of the restaurants, the service that you get is so personal and far from commercial, and the staff work hard to uphold the high standards. A great example of this is my evening at Sette, the Hyatt Regency Tashkent's Italian restaurant on the top floor of the hotel. It was there that my husband and I met Alisher, and after seeing my pretty large camera on the table, he asked if I would like to be shown around. He talked me through so much about what they do, and the pride in their work was so inspiring.
Khiva Restaurant
Based on the ground floor not too far away from the lobby, lies Khiva – focused on Uzbekistan cuisine. Khiva was our first taste of Central Asia, not just in the food we were about to eat, but also in the decor. Decorated in true Uzbek style, with those little touches like brightly coloured Uzbek ceramic plates adorning the walls or the small cotton plants on each table. It is also the location where a full local and international breakfast was served. The food was truly delicious and we got to try some of the Uzbek classics:
Plov: I had the veggie version. Typically simmered in a broth of meat and vegetables called zirvak until the liquid evaporates. Uzbek plov is traditionally cooked in a kazan, a large cast iron pot, over an open fire.
Manti: little steamed dumplings typically filled with lamb, beef, cabbage, potato or pumpkin, with fat often added to meat manti. Great with a side serving of sour cream.
Uzbek salad: the dish I ate twice a day everyday, and I'm now even making it in London. Really simple, just a lot of cucumber and tomatoes, covered with dill.
Samsa: pastries filled with various meats and onion
A variety of noodle-based dishes – they even have their own fresh noodle dogma making station
Sette Restaurant
Now as you would imagine, being the top hotel in Tashkent, it means they are used to catering to frequent business travellers, both internationally as well as from Central Asia. Regional travellers want to try something different to local food, and this brings me to the second restaurant – Sette. An Italian restaurant with some Uzbek flair. Think sophisticated cocktails and delicious food with fresh ingredients.
What I absolutely love is that the restaurant has four open kitchens, so that you can see where your food is coming from. One of those is a little pizza kitchen, where a Pompeii oven lives for a proper Italian pizza.
Alisher, the manager here, walked me through their room for private events, which houses over 150 bottles of both local and foreign wine. It's also where we discovered Bagizagan, our now favourite Uzbek wine. We moved over to the dessert station and sampled some of the strawberry and lemon sorbets, all of which were made in-house with fresh produce depending on what is in season. We learnt that lemons in Uzbekistan are actually orange – after researching them in London, it seems they are higher priced than the ones we normally buy from a supermarket.
The tour continued on to the four terraces, located on each corner of the top floor. Each offer a different view of Tashkent, but what I also really appreciated is the little herb garden that they are looking after! Again, Alisher took such pride in them using herbs that were grown at the hotel itself.
Once we had our dinner, we moved on to the adjoining bar next door to Sette for some tea and shisha. Warning: this is not a place for tea drinking and is definitely for the pleasure of adults and not young families … with prominent regional DJs, a full bar and a packed house, this definitely was more of a nightclub that seemed popular with the locals.
We visited on our first night in Tashkent and sadly, we were just so jet-lagged that green tea was all we could manage! I'm gonna throw in another little fact here – when at the bars or in the restaurants, notice how you will only see paper straws. A policy within the Hyatt brand is that no single use plastic straws are to be used!
I hope this review of the Hyatt Regency Tashkent has helped you in some way if you were looking for that home away from home when in Tashkent, Uzbekistan. But like with any good hotel, it is the staff behind it that make it special. How they take pride in the work they do and want to provide the best possible service, their dedication to quality and the understanding of what hospitality is all about.
I'll leave you with one last fun fact – if you do have the pleasure of visiting Sette – look at the walls. See that piece of art made of corks? That was put together by the staff, who spent a long time collecting those corks and putting them together to form art. Look to the other side and you'll see artwork of a fish made with the necks of glass bottles – again all the work of the staff. So inspiring!
---
If you plan on travelling to Uzbekistan and need help planning your itinerary, you might want to check out our 10-day Uzbekistan itinerary, as well as all the best places to see during your time in Tashkent.
Alternatively, have a read of any of our hotel reviews to ignite your wanderlust. All come highly rated!
---
Don't forget to pin this article if you found it helpful, and follow Dukes Avenue on Pinterest for more!
Sarah founded Dukes Avenue in 2018 as a creative outlet while working at a London hedge fund. What initially started as a small blog has become a widely read luxury lifestyle online publication targeted at the modern woman, with content curated to inspire readers to live their best and most fulfilled lives. Sarah has lived in London, Malta, and, most recently, the United Arab Emirates and uses her travels and experiences to inspire much of the content.