Whether you are a motorsport aficionado or not, a Grand Prix holiday can be an exciting and action-packed one. There is so much more than meets the eye beyond the racing: the noise, the excitement, the pageantry – both on the track, as well as off it – that you owe it to yourself to consider experiencing a fantastic Grand Prix holiday in person.
So how can one go about planning a Grand Prix holiday? You can very well book an off-the-shelf tour, but as an intrepid traveller, I prefer to organise my own journeys. With a bit of research and planning, you can substitute tour guides, coaches and group tours for exclusivity, authenticity and character. Anyone can enjoy a great trip regardless of who crosses the finish line first.
The Ultimate Guide to a Grand Prix Holiday
This article contains affiliate links
---
Grand Prix
For those unfamiliar, Grand Prix (literally "big prize" in French) typically refers organised sporting events. For those interested in motorsport, this refers to racing, either as part of an organised calendar of events or stand-alone events. These events or series may involve motorcycles, open-wheel single seat racing cars, "prototype" cars, and sports cars to name a few, fuelled by fossil fuels, bio-fuels and most recently electric. There are all sorts of different series that differ by country or region, level, drivers, format – indeed there is something for every taste, so before booking anything you should know what you want.
Which Motorsport?
This may be a function of where you live and what sport you are exposed to – for example, small motorcycles and scooters are a popular mode of transport for young people in Spain and Italy, so motorcycle racing inevitably has a larger following in those countries and continental Europe generally. Similarly, stock car racing in the US originated from retired Prohibition-Era bootleggers running their modified cars for spectacle rather than for profit, which created many legends in the hearts of the people. This leads to NASCAR, its current iteration, which carries on that cultural fascination in America.
You may let your principles guide – if you, like many others, concern yourself with the environmental damage caused by fossil fuels, perhaps an electric formula, such as Formula E, could be how you reconcile a passion for racing with your love of the planet.
It would be well worth doing some research – watch a race on television (or a "best bits" clip on YouTube) – and determine which one suits you. MotoGP may not be something you would want to spend thirty minutes sitting down on the sofa watching, much less planning your Grand Prix holiday around, but you may like car racing enough to watch the whole Le Mans 24 Hour race without a break! Ultimately, the more you know about the format, the rules, the teams, the drivers/riders, the more vested you will be and the more you will enjoy it.
When To Visit and How Long To Go For?
So you've identified your sport of choice, and you're now committed to planning your Grand Prix holiday – where and when do you go? The first thing to note is your own availability to travel and visit a race event. Naturally, your preferences as to the type of motorsport and the type of holiday should be first and foremost in your mind.
Remember that most organised racing series tend be to be organised into race calendars. Formula 1, for example, runs between March and December every year with over twenty races, centred around the European events hosted during the summer months, and the "fly-away" races hosted in far flung regions of the world. The Australian Grand Prix in Melbourne's Albert Park has been the season-opening race for many years, whereas the recent season-ending races have been hosted in Abu Dhabi.
Races tend to be logistically challenging events to plan, so race calendars are usually secured well in advance, with the exact dates for the forthcoming season often being proposed mid-way through the current season. Either way, one will have plenty of time to organise flights, tickets, accommodation and the like.
As most motorsport does not often run in the winter months, your Grand Prix holiday is likely to be more sun and fun than skiing. That being said, some global motorsport may start out in the southern hemisphere's summer and move into the northern hemisphere's summer as the season progresses (F1 is a good example). Rally is very much an all-weather venture and runs pretty much all year in different weather, so you may enjoy rally Sweden in February following by a Lapland adventure. To the same token, you could visit the south of France in January for the fabled Rallye Monte Carlo and follow in May for the Grand Prix de Monaco.
Bear in mind that most organised races happen over a series of days, with a few days allocated to practice and qualifying, culminating in a race on the final day. For larger televised events, these tend to happen over a weekend with a race day on a Sunday. That being said, some events may last longer with "press days" or "fan days", corporate hospitality events, supporting races, concerts and the like becoming just as much an event as the race itself.
Indeed, many organisers now spend large budgets to ensure that their events cater for everyone, and also get support of tourism authorities to promote the location as a destination. With this in mind, a very race-centric holiday can take a minimum of two days (with minimal travel and minimal outside events) and up to ten days for a leisurely touristy kind of trip.
Where to Go?
Just as important as the 'when' to book your Grand Prix holiday is the 'where'. Your given sport may be geographically limited as to where events are held, or you may be unable or unwilling to visit a certain place for whatever reason, be it visa restrictions, logistical challenges or simply a lack of interest.
Once again, we can consult our race calendars for potential locations. A novice may be overwhelmed by the sheer number of races. For example, in the 2021 Formula One rostrum of contracted races, option can include:
| | | |
| --- | --- | --- |
| Classic Races | Destination Races | New Additions |
| British Grand Prix, Silverstone | Singapore Grand Prix, Singapore | Dutch Grand Prix, Zandvoort |
| Canadian Grand Prix, Montreal | Azerbaijan Grand Prix, Baku | Vietnamese Grand Prix, Hanoi |
| Italian Grand Prix, Monza | Abu Dhabi Grand Prix, Abu Dhabi | |
| Japanese Grand Prix, Suzuka | | |
| Monaco Grand Prix, Monte Carlo | | |
Thing to note:
Consider the amount of time you have available for your Grand Prix holiday – a 48-hour round trip from New York to Mount Fuji Raceway in Japan for a two-day event may seem like a good idea at the time, but be sensible. The more time you have available to travel, the further you can travel – or the longer you can spend at your chosen destination.

Consider your available locations – this will be dictated by the actual race calendar as discussed in the last section. Your motivation for wanting to visit a place could vary based on your tastes:


For the racing fanatics: the choice of circuit can make a huge difference. Monza (Italy), Indianapolis (US) and Spa-Francorchamps (Belgium) are race tracks with an immense amount of history and always throw up good racing and are permanent fixtures on several motorsport calendars.

For those seeking a city break: many racing calendars have what are called "destination races" which are essentially races hosted in a city to promote the location as a destination. To increase the appeal of F1 to a wider global audience, its promoters have introduced a number of destination races, from Singapore and Hanoi, to Monaco and a touted race in Miami. Formula E also supports this model, with races in London, Paris and Marrakesh.

For the adventurers – try and visit a place you may otherwise not get the opportunity to visit. In 2017, I visited the city of Baku, Azerbaijan, on the shores of the Caspian Sea. I'd always wanted to visit friends there and see the country, so this was the perfect excuse!
Note: some race events are hosted on bland and uninspiring circuits, or their locations are somewhat less than breath-taking. A number of "cookie cutter" circuits were uninspiring or unprepared to offer much of a touristic product and had their funding withdrawn unceremoniously. Subsequently, these were dropped from the F1 calendars (as they could not be supported by ticket sales from genuine race fans alone).
What Is There To See?
Naturally, the non-racing related sites and sounds are dictated by which location you decide to visit.
The Racing
Firstly, the racing stuff. A race event is often comprised of three types of sessions, each with a varying degree of optionality:
Practice: where the drivers take to the track and run their tyres and cars in different settings to find the appropriate set-up for the race. This tends not to be a competitive session, with some teams participating minimally just to conserve engine mileage or tyres, and drivers do not compete for position on-track. This kind of session is for anoraks and only optional. In F1, this is normally run on a Friday (or Thursday in Monaco) before the race. There are multiple sessions lasting anywhere from 30 minutes to several hours.

Qualifying: where the drivers get out on track to try and determine their starting position for the race. The format of the qualifying sessions again vary by the series, but it is often the case that the fastest driver will start at the front of the starting grid for the race, with the slowest lining up last. This tends to be a lot more exciting, with drivers often putting in their fastest times of the weekend, with rivalries starting to show. This session is still optional, but definitely contributes to the storyline of the weekend. This normally lasts one hour or so.

Race: the race (sometimes more than one!) will see a number of drivers take to the course in the order determined by the previous session's qualifying positions. Drivers aims are simple – finish first. A race can last anywhere from 20 minutes to 24 hours ('24 hours of Le Mans'). An absolute non-optional, after all if you're going to watch a race, you cannot not watch the race!

Bonus: many large organised racing events will host a number of additional racing series throughout the race event known as "support races" – these will be your feeder series, sports car racing or local racing series. Each will have their own respective practice, qualifying and racing sessions to fill the space between the main events. These events, whilst very optional, can be entertaining in their own right and often offer up extremely promising racing.
In summary, when planning your Grand Prix holiday, make sure you watch the race, then pick and choose everything else. If you're a racing fan, spend some more time around the track, if not then enjoy the events!
The Other Fun Stuff
Increasingly, racing promoters have recognised that to have a greater reach than "just" racing fans, they need to keep everyone entertained. That's not just the series organisers, but the circuit owners and tourism authorities that pay top dollar to host events – it is their imperative to put on the best show possible to shine a light on their touristic product and make the fans return in droves the next year.
The race events tend to vary depending on the level of organisation, however a "typical" race weekend hosts all sorts of events and competitions such as driver meet-and-greets, pit walks, food stalls, corporate hospitality competitions, go-karting and the like. Increasingly, celebrity-studded VIP parties and concerts draw in the crowds, just as many as the races themselves.
It is worth consulting the relevant local host website to get a full run-down of events up for grabs. Be assured that a Grand Prix will be a big event in any location, so local businesses will go out of their way to promote shopping festivals, celebrity chefs and organising an abundance of tours to support the influx of tourists. The Monaco Grand Prix plays host to pool and yacht parties, champagne lunches at Cafe de Paris, luxurious evenings at Casino de Monte-Carlo and helicopter tours of the principality. You will be spoilt for choice wherever you go.
Planning Flights, Accommodation And Race Tickets
If you must fly to your Grand Prix holiday, bear in mind that flights to the local airports will trade at a premium, so plan around your race calendar as soon as you can. As a regular racing weekend lasts from a Friday to a Sunday, peak flights will be those for inbound on Thursday evening and leaving from Sunday evening, although flights will be fairly busy from the weekend before a race to the following one.
Hotels and rented accommodation tend to fill up quickly with teams, officials and corporate guests, so when planning the accommodation section of your Grand Prix holiday, make sure to get in early – not only to ensure availability, but to avoid price gouging when booking too late. Be sure to choose somewhere within reasonable travelling distance of the main sights as well as the race event itself (this is where destination events have an edge, as those are all in the same place). Many hotels will operate shuttle bus services to and from the events, which may save costs related to public transport and / or parking.
Tickets
When buying tickets, remember that many race promoters launch these almost a year in advance, often with substantial discounts for early bird buyers. The rule of thumb would be to buy something as soon as you can.
The next question is – which tickets to get? Keep in mind that you can buy tickets for each day individually or as a pack, so if you are planning on going to the race-day alone you could avoid extra expense and just buy the one-day ticket for the race, although be warned that you may be unable to attend events on those days for which you do not have tickets (such as after-race concerts).
Besides the number of days, you can choose your Grand Prix tickets based on:
Seating: certain locations on a racetrack are more desirable for their viewing opportunities. The main grandstands on the start/finish line are often a good bet as you get a view of the pitlane, the race start, and podium celebrations. Otherwise, a good rule of thumb is to go for good overtaking spots on the track – slow corners complexes, or those corners at the ends of high speed straights.

Ticket-Tiering: as with seating, not all tickets are created equal (depending on the event and track):


A general admission no-seat ticket, at the bottom end of the scale, could cost less than $50

A regular ticket with allocated seating on a grandstand can cost around $100

A "premium" ticket, essentially the same as a normal ticket but with a slightly better view and added goodies like pit-walks, costs more than a regular ticket

A luxury ticket can run into several hundreds if not thousands of dollars. They are often indoors (albeit with an outdoor terrace to enjoy the racing), with great views, catering, a bar, goodie-bags, parking and the like

The corporate / team hospitality, VIP tickets or Paddock Club packages can be a phenomenal experience and phenomenally expensive, running into tens of thousands of dollars per person for the race day. They often include personal tours of the garages, small-group meet-and-greets with some of the drivers and team staff, free-flowing champagne and the best seats in the house – right above the pitlane. If you ask nicely, you might meet even meet Roscoe and Coco Hamilton


Top Tip: some hotels or restaurants can have amazing views of the race track, catering and drinks without the need to actually buy a ticket, although they will come at a cost too.
We hope that you've found this guide useful and that you can take your own inspiration to plan your own Grand Prix holiday.
---
Don't forget to pin this article if you found these tips helpful, and follow Dukes Avenue on Pinterest for more!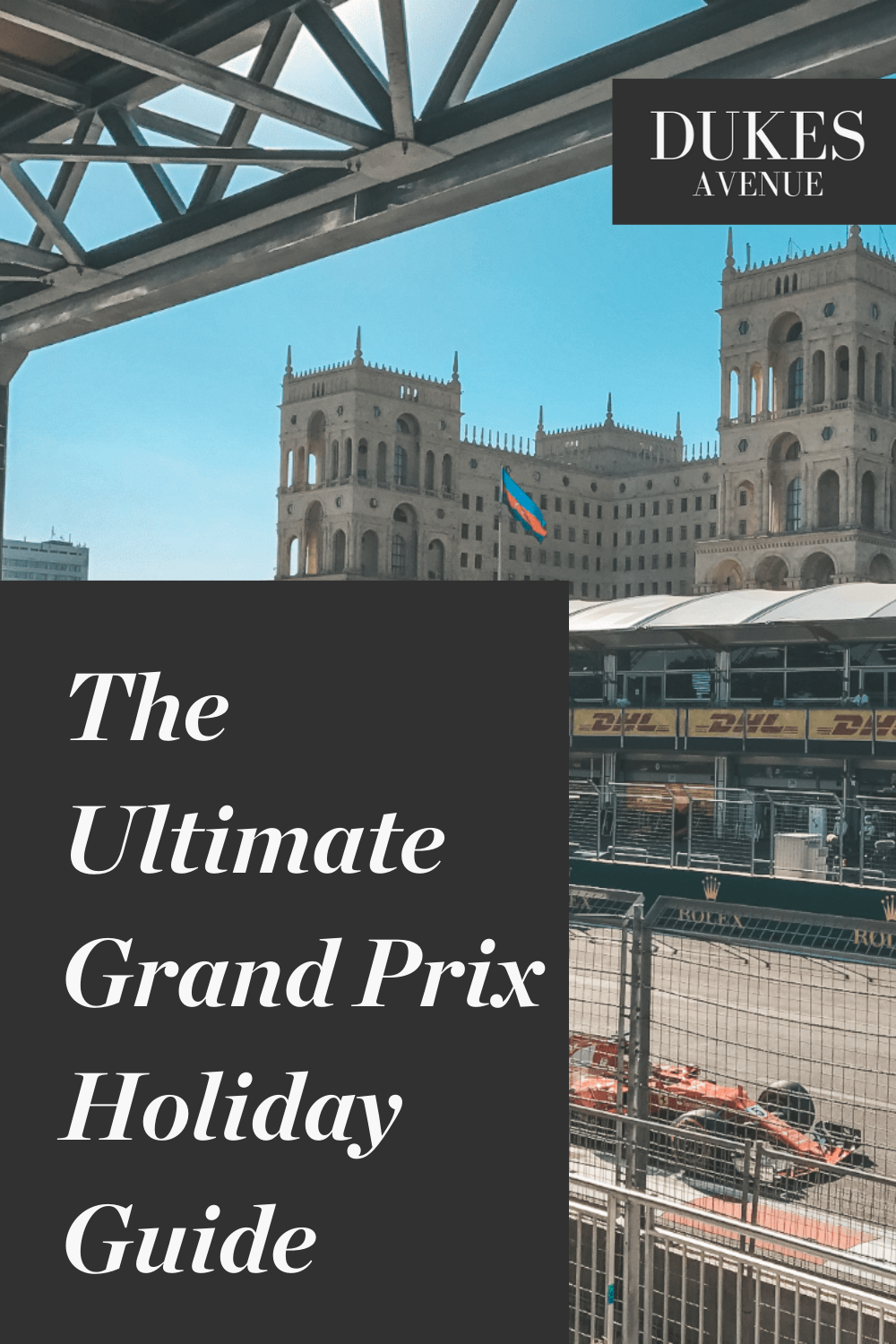 Sarah is a syndicated freelance writer and editor of Dukes Avenue. She founded Dukes Avenue in 2018 as a creative outlet while working at a London hedge fund. What initially started as a small blog has become a widely read luxury lifestyle online publication targeted at the modern woman, with content curated to inspire readers to live their best and most fulfilled lives. Sarah has lived in London, Malta, and, most recently, the United Arab Emirates and uses her travels and experiences to inspire much of the content.