Wanting clear, beautiful-looking skin is a natural desire. After all, we all want to look and feel our best! On a daily basis, social media bombards us with various product suggestions to help us maintain healthy and youthful-looking skin.
Between recommendations for retinol, hyaluronic acid, vitamin C serums, dermablading, microneedling … this torrent of beauty advice can prove quite overwhelming and, at times, confusing to know what's right for us and what isn't… but curb those thoughts! There are some active ingredients that are suitable for everyone and that actually live up to the hype!
We're talking about niacinamide, an active ingredient that has actually been around for years yet somehow remained somewhat under the radar (it may have something to do with it being a little hard to pronounce!).
Before writing it off as just another overrated ingredient that has been marketed to beauty addicts (guilty), let's explore why this ingredient has gained so much attention and why it is loved by so many.
For those who aren't quite sure what niacinamide is, we'll be breaking down exactly what this ingredient does, why it is beneficial, how to apply niacinamide properly, and finally, any possible downfalls to using it incorrectly.
Table of Contents
This article contains affiliate links
---
What is Niacinamide?
Don't be put off by its hard-to-pronounce, intimidating name! Plainly and simply, niacinamide [pronounced nahy-uh-sin-uh-mahyd] is a water-soluble form of vitamin B3 specifically used for skincare and is known for its soothing and healing properties.
Niacinamide benefits are so wide-ranging that adding it to your skincare routine is essentially like taking a daily multivitamin. As it seeps deeply into the skin, its antioxidizing properties allow it to work its magic from within.
Niacinamide helps moisturize the skin, reduces skin inflammation in moderate acne, makes the face feel more supple, and retains its youthful glow. Best of all, niacinamides can easily be used with other active ingredients and easily incorporated into your existing routine without unpleasant reactions.
Whilst our bodies do not produce niacinamide of their own accord, we absorb niacin through the foods we eat, and our bodies can convert the niacin we consume into niacinamide. Niacin can be found in various foods that make up a healthy diet, including beans, fish, grains, and meat.
In applying niacinamide topically, we're giving our skin that extra boost that can take a healthy glow to the next level. Don't just take our word for it – plenty of studies have been carried out to support topical niacinamide use that makes for an interesting read!
What are the Benefits of Niacinamide?
Paula Begoun, the founder of Paula's Choice, says that 'topically, niacinamide has so many ways to help skin it's mind-boggling.' Here are just a few:
Niacinamide promotes the natural production of keratin (a structural protein found in your hair, skin, and nails), which keeps your skin feeling and looking youthfully firm
It strengthens the skin barrier, thus retaining moisture and shielding the face from environmental damage
Prevents (and even fades!) hyperpigmentation by evening out your skin tone and retaining your skin's natural lightness
Minimizes any redness on your skin
Rebuilds healthy skin cells
Reduces the appearance of fine lines and wrinkles
Protects against oxidative stress and helps repair damaged DNA
Treats blemishes
Minimizes large pores and tightens relaxed pores
Who Should Use Niacinamide?
Anybody and everybody should add niacinamide to their skincare routine! It is suitable for all skin types, even those with sensitive skin. It is especially beneficial for those who suffer from rosacea, observe redness on their skin, or are particularly prone to breakouts.
The one thing that your skin type will determine, however, is which type of niacinamide product you should use. For example, dry skin types might prefer to combine niacinamide with hyaluronic acid for that extra boost of hydration, while oily skin types might like to use a niacinamide product that also contains salicylic acid. Similarly, dry skin types may prefer to incorporate niacinamide into their skincare routine through a rich moisturizer or hydrating toner, whilst oily skin types may prefer a lightweight serum or gel.
How to Apply Niacinamide
How you apply niacinamide will very much depend on the niacinamide product being used – of course, the way you apply a niacinamide toner is not the same as you would apply a serum or moisturizer. Our advice is to always refer to the instructions that come with the product to ensure that you are reaping the benefits.
According to certified dermatologists, the best way to achieve results is to use leave-on niacinamide products, such as toners, serums, or moisturizers, and apply them twice daily. As mentioned earlier, the niacinamide products you choose to use will vary depending on your skin type.
Remember, you can use more than one niacinamide skin care product in your routine!
You may choose to use a hydrating toner with niacinamide right after cleansing and patting your skin dry, followed by a niacinamide serum and/or moisturizer, before locking it all in with an oil of your choice. The important thing to remember is the order in which the products are applied – cleanser, toner, serums, moisturizers, oil. Thinnest to thickest, and finish with oil as the final step in your skincare routine.
Here are a few commonly asked questions about combining niacinamide with your existing skincare products and further general information on how to use niacinamide correctly.
Should I Use Niacinamide in the Morning or Night?
When to use niacinamide is a frequently asked question. Fortunately, niacinamide is safe to use in the morning and evening. However, when combining niacinamide with another active ingredient, application in the morning, evening, or both may be preferable, depending on the other active ingredient. The sections that follow cover when to apply niacinamide if used alongside hyaluronic acid, vitamin C, retinol, and chemical exfoliants such as BHAs.
Niacinamide and Hyaluronic Acid: Can They Be Used Together?
Definitely! These two water-based ingredients' respective qualities complement one another nicely and work together to deeply hydrate your skin and retain its suppleness. Niacinamide encourages collagen production, whilst hyaluronic acid enhances the skin's elasticity.
Both of these treatments have excellent humectant abilities that, when paired together, work hand-in-hand to trap moisture in the skin in order to reduce the appearance of fine lines and wrinkles. The question is, niacinamide or hyaluronic acid first?
How Should You Layer Niacinamide and Hyaluronic Acid?
First, apply hyaluronic acid on a clean and cleansed face both morning and evening so as to effectively rehydrate your skin after cleansing. Layering the niacinamide on top will help regulate any excess sebum production and avoid breakouts. Finish off by applying your choice of moisturizer.
Alternatively, you may apply niacinamide and hyaluronic acid at different times of the day. You may want to use hyaluronic acid in the morning to maintain your skin's hydration levels and niacinamide at the end of the day to even out the texture of your skin. Your skin, your schedule, your choice!
Can You Use Niacinamide with Salicylic Acid?
Salicylic acid is possibly the most popular Beta Hydroxy Acid (BHA) on the market, and you might be wondering if this blends well with niacinamide. The answer is yes! Both of these ingredients have anti-aging properties and help to prevent the development of acne.
You'll find that pairing these ingredients together is typically successful in controlling sebum production, making this an ideal combination for people with acne-prone, oily skin or combination skin. The salicylic acid actively fights against blemishes, whilst the niacinamide ensures that your skin retains that moisture – which is essential in maintaining the skin's elasticity and youthful glow.
There are two ways of layering these two ingredients:
Start by applying an exfoliating toner enriched with salicylic acid. This will wipe away the dead skin cells, help clear away excess sebum, and heal blemishes. Then, use a niacinamide serum to lock in the skin's moisture and ensure long-lasting hydration.
Alternatively, you may start by applying a niacinamide serum and follow this up by applying another serum enriched with salicylic acid.
How to Layer Vitamin C and Niacinamide
Like niacinamide, vitamin C comes with its own list of skincare benefits and is a powerhouse in and of itself. It has potent antioxidizing properties that protect the skin from free radicals caused by exposure to UV rays and is essential for collagen production.
However, there have been various misconceptions about combining these two ingredients in skincare routines. For years, many had written off this combination as problematic, stating that these two ingredients counteract each other or that using both ingredients together may lead to skin irritation.
Luckily, recent studies have proved these reports outdated and confirmed the safe pairing of these two ingredients. What is not advisable, however, is to purchase one product that includes both vitamin C and niacinamide. Vitamin C is known for being pretty unstable and is a tough ingredient to formulate in a product, so it makes sense not to upset it by combining it with another active ingredient in the same bottle.
If you prefer to use a niacinamide toner, allow it to be fully absorbed into your skin before applying your vitamin C in the morning. If using a niacinamide booster or serum, apply whichever is thinnest first (whether that's the vitamin C or the niacinamide) and allow enough time for the first to be fully absorbed before applying the second!
Everyone's skincare routine is different and personal to them, so work niacinamide into your routine however it makes sense to do so!
Niacinamide and Retinol
Niacinamide and retinol are also two very compatible ingredients. Niacinamide promotes ceramide production, which aids in the skin's resilience against more potent ingredients such as retinol. Additionally, niacinamide's anti-inflammatory properties lower the risk of possible irritation from the retinol.
If you want to include both in your skincare regime, you'll find products that combine both of these ingredients for an easy way of applying both ingredients at once. You may prefer to use separate products, in which case you should apply the niacinamide first to help protect the skin, followed by the retinol. Remember that retinol increases your skin's sensitivity to UV rays, so if you are going to use a 2-in-1 niacinamide and retinol product, ensure that this is only used in the evening.
Niacinamide Products
We've combined a list of choice products that include niacinamide. Whilst you might not want to use all of these products at once in order to take advantage of other active ingredients, it is great to be aware of the different ways you may include niacinamide into your skincare routine!
Toners are an optional part of your skincare routine. Nevertheless, they are highly beneficial! Toners help to close and tighten pores, which protects the skin from absorbing impurities and environmental contaminants. Yale-affiliated dermatologist Dr. Alicia Zalka notes that "using a toner can be a nice way to add active ingredients like retinoids, antioxidants, and exfoliants to your existing products," so why not opt for a niacinamide toner?

Niacinamide Face Masks
Face masks are an excellent addition to anybody's skincare routine. They help keep your skin hydrated, remove excess oils, and tighten open pores – all whilst enjoying a soothing spa-like experience in the comfort of your home. Here are some of our favorite face masks that count niacinamide as one of their ingredients.

Niacinamide Serums
If you're going to use any niacinamide product, the serum should be it! Serums are specifically designed to target particular skin-related problems by deeply penetrating the thick layers of your skin.

Niacinamide Moisturizers
Facial moisturizers are a fundamental part of your skincare regime. Moisturizing balances out your skin's complexion, maintains healthy skin cells, and protects your skin from possible irritation.

---
Don't forget to pin this article if you found it helpful, and follow Dukes Avenue on Pinterest for more!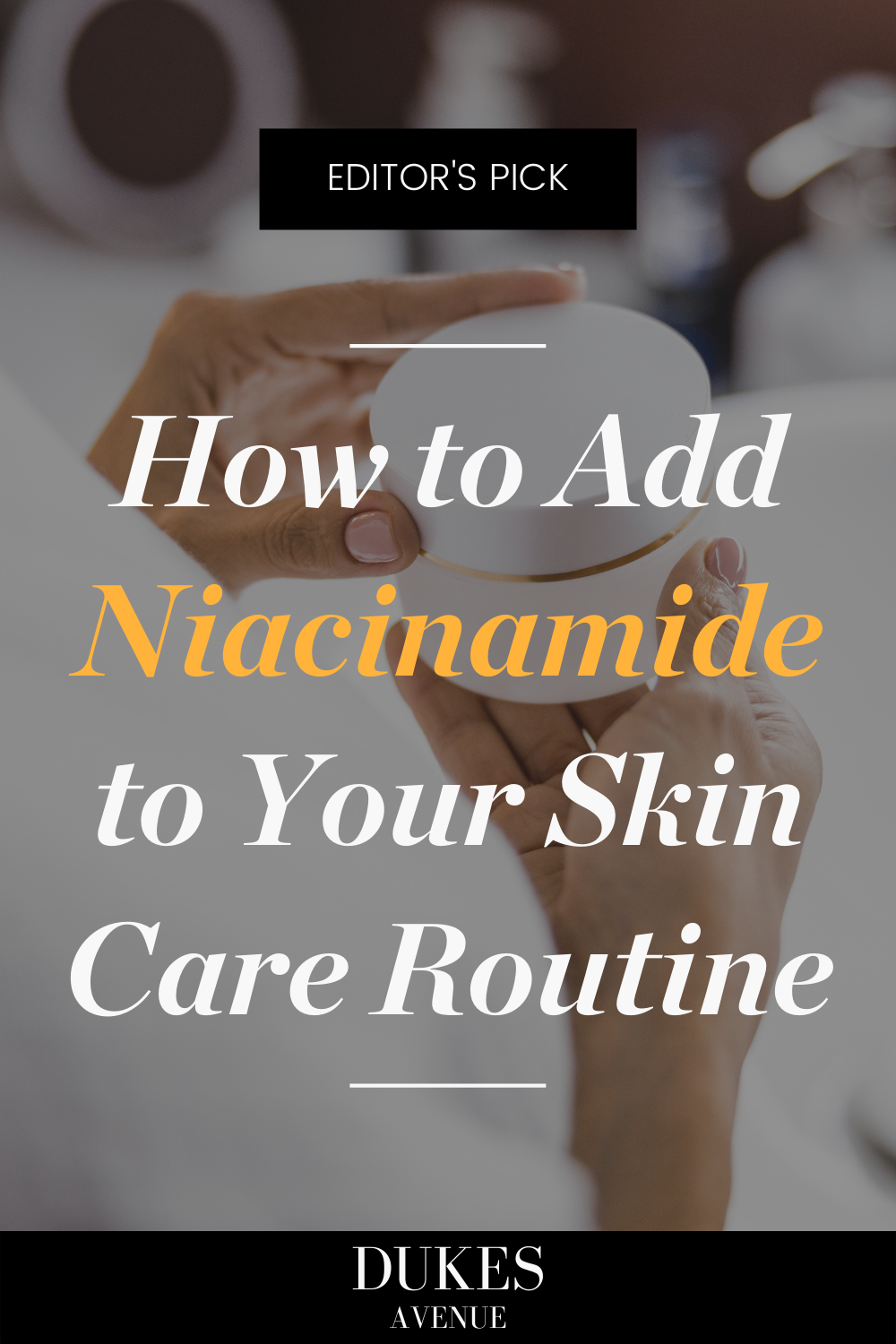 Christine is a woman with an eclectic range of artistic tastes. As a professional soprano with a Bachelor's Degree in Music, she carries over 15 years of experience in the classical music scene, both locally and abroad. Her passion for music is equalled by her love for literature and, more recently, Christine graduated for a second time with a BA in English.