Article Cover Photo: © Eva K from Pexels via canva.com
This post is all about how to style leather leggings, what to wear with leather leggings and leather leggings outfit ideas.
Black leggings are the perfect blend of style and comfort, and a great athflow staple. With their ability to be dressed up as well as down, their versatility and flattering fit has secured their spot in every woman's fall or winter capsule wardrobes.
On a separate note, 2020 was the year of faux leather, with a whole sleuth of brands incorporating faux leather into their collections. The result of combining the two? Faux leather leggings – the comfort of normal leggings, with a little bit of spice thrown into the mix. Sleek, stylish, sophisticated and flattering, we couldn't help but share our absolute favorite ways on how to style leather leggings in the cooler months.
Despite being a fashion item that harbors such inherent versatility – possibly rivalling even that of skinny jeans – faux leather legging outfit ideas are still needed for those hectic days or uninspired moments. Undoubtedly, putting on a pair of faux leather leggings is as much a confidence booster as it is an effortless way to elevate a casual top, hoodie or oversized sweater into a stylish outfit that is perfect for busy days.
Whether you're here for inspiration for fashionable faux leather legging outfits, or simply tips on the best tops to wear with leather leggings, this faux leather leggings guide that will have you itching to go give them a go!
This article contains affiliate links
---

How to Style Leather Leggings
1. Wear Them with Boots
A pair of killer stiletto boots go wonderfully with leather leggings. There is nothing easier than zipping up a pair of over-the-knee leather boots on top of a slinky pair of leather leggings to elongate the legs.
For a more subtle look, even a dainty set of high-heeled ankle sock boots would match beautifully.
Whichever type of boots chosen, this makes for a powerful look that will give anyone that boost of confidence they need for a great evening out.
2. Class Them Up with a Pair of High-Heeled Sandals
Some say shoes make or break an outfit, and high-heeled sandals certainly add their own touch of elegance to any outfit they are paired with.
In fact, combining high-heeled sandals with leather leggings is a simple way to totally class up the ensemble. The tight leggings and heels work together to accentuate the natural female shape by lengthening the legs and highlighting the curvature of the hips.
This super flattering look is perfect for date night or cocktails with the girls.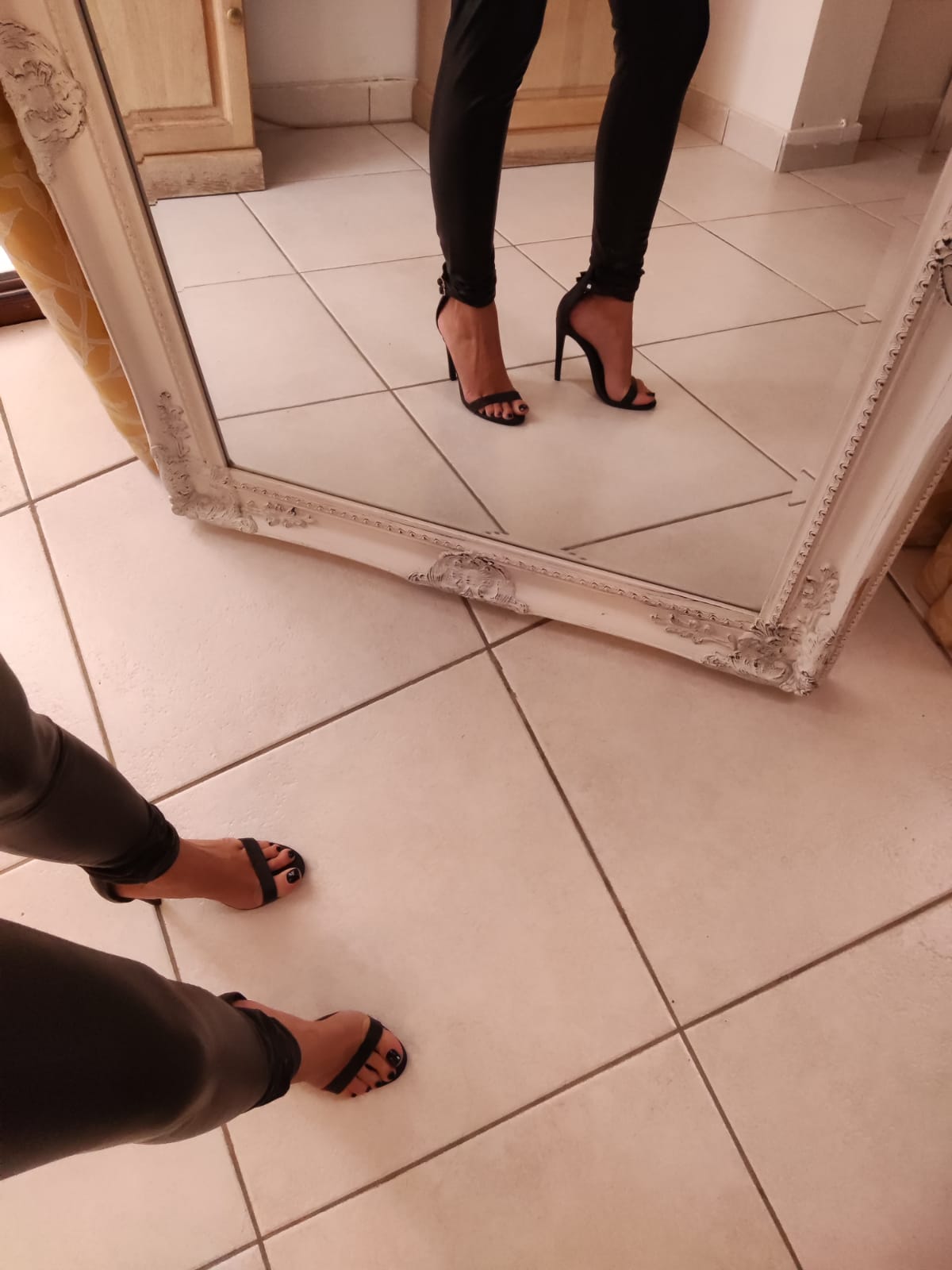 WANT A FREE FLOW CHART TO HELP
CLEAR OUT YOUR CLOSET?
Need to clear out your closed but confused about which items to keep, trash, store or sell? Just click the button below to get our FREE Closet Clear Out Flow Chart delivered straight to your inbox!
3. Get Comfortable with Faux Leather Leggings and Trainers
White trainers are a wardrobe staple, loved for their ease of wear and comfortable fit.
Wear leather leggings with a pair of your favorite trainers and white oversized shirt to create a smart-casual look that is great for mornings and afternoons out alike. Throw a blanket scarf over the shirt to complete the look during those chillier months.
4. Pair Them with a Tunic-Length Sweater
Being a more form-fitting option than trousers/pants, some might not feel comfortable wearing leggings with a short or fitted top. Fret not, it is always possible to pair leather leggings with a tunic-length sweater!
Stylish and sporting added length, a tunic-length sweater eliminates the feeling of exposure and creates a flattering silhouette for all female figures. Add a pair of combat boots and puffer jacket for an eye-catching chic street style, or some smart pumps and gold jewelry for a more business casual look.
5. Style Them with a Shirt or Blouse
Being such a versatile clothing item, a pair of leggings can quickly be transformed from a casual garment to something a little more chic simply by wearing faux leather.
Pairing leather leggings with an oversized shirt or smart blouse helps to change an ordinary pair of leggings into a sophisticated outfit that can easily be worn to a work lunch. Throw on a trench or jacker over the ensemble and your look is complete!
6. Dress Them up with a Blazer
As Rashida Jones famously said "with the perfect blazer, anything is possible." Indeed, a beautifully cut blazer pairs well with various items, and layering one over a stylish pair of leather leggings can make any woman feel she's reached the height of sophistication.
7. Match Them with a Leather Jacket
For a more daring and edgy look, go all out with leather leggings and a matching leather jacket.
Leather jackets are a timeless classic that any complete capsule wardrobe will have, so try slipping one on over a basic tee and, of course, those trusty leather leggings.
This biker-chic look is a guaranteed confidence booster that looks as powerful as it feels.
8. Wear Them with a Shacket
Shackets are this year's new fashionable layering pieces. A crossover between a shirt and a jacket, the shacket blends the stylish flare of oversized shirts with the insulating properties of a jacket, making for the ideal transitional clothing item.
A pair of skin tight leather leggings will perfectly compensate for the shacket's loose-fitting design, and enjoy a truly sophisticated – yet super comfortable – ensemble that is perfect for daily wear.
9. Dress Them Down with a Hoodie
Hoodies are some of the most comfortable clothing items around. A snug hoodie is ideal for days when we're constantly on-the-go and need a casual, loose-fitting top to run around in.
Styling a hoodie with a pair of leather leggings elevates the entire ensemble, whilst maintaining the same level of comfort. Add a pair of sneakers into the mix and you're good to go.
10. Winter Them Up with a Warm Winter Coat
On those cold winter days, nothing feels more luxurious than a thick winter coat. As elegant as it is protective, a warm coat pairs well with almost any style of pants.
Nevertheless, there is something uniquely distinctive about the combination of flattering leather leggings and a stylish camel coat.
Pro tip: For oversized coats, try adding a belt to accentuated the waist and give the outfit more shape!
11. Be Daring with a Bodysuit
In recent years, bodysuits have climbed up the ladder of popularity and become a women's wear staple.
Equipped with bottom closure, a bodysuit is unapologetically form-fitting, does not need to be re-tucked and remains beautifully smooth all day long.
Naturally, pairing this with a tight leather leggings might not be within everyone's comfort zone, but consider giving it a try before dismissing entirely! If a form-fitting outfit is just what the occasion calls for, combine a chic bodysuit with leather leggings and pair of high heels for a confident evening out!
12. Keep It Simple with a Plain White Tee
Although a plain white tee is merely a simple t-shirt, the classic white hue lends it an element of sophistication that a colorful or graphic tee would not.
Pairing a plain white tee with a pair of clingy, black leather leggings achieves a smart-casual look that is suitable for both day and evening wear, depending on the choice of footwear.
Conveniently, both of these classic items are likely to already form a part of most capsule wardrobes, so style them together for an effortlessly chic look that is sure to make you feel put-together and beautiful wherever you go.
13. Wear Them with a Cardigan
Perfect for those autumn/fall and winter months, a chunky cardigan is a casual and comfortable piece that is perfect for layering.
The combination of a cosy cardigan and stretchy leather pants makes for a well-composed outfit that is as elegant as it is functional.
14. Jazz It Up with a Denim Jacket
Combining a denim jacket with leather bottoms might not be an instant no brainer, but once tried, we think it will become one of your favourite go-to looks.
The mixture of rough denim and smooth leather achieves an edgy combo which can be more interesting than the more obvious all-leather look.
15. Add Texture with a Faux Fur Coat
Faux fur is definitely trending.
Fortunately, in recent years many fashion houses have chosen to stop incorporating real fur into their collections and instead, have managed to create faux fur pieces that are equally as stunning, whilst being just as soft and most importantly cruelty free.
With faux fur now opening up so many doors that may previously have been closed, consider pairing a luscious faux fur coat with a pair of faux leather leggings for a strikingly bold look that will turn heads.

---

LAST UPDATED ON:
22/02/2023
---
Don't forget to pin this article if you found it helpful, and follow Dukes Avenue on Pinterest for more!
Christine is a woman with an eclectic range of artistic tastes. As a professional soprano with a Bachelor's Degree in Music, she carries over 15 years of experience in the classical music scene, both locally and abroad. Her passion for music is equalled by her love for literature and, more recently, Christine graduated for a second time with a BA in English.