There is nothing more empowering than getting dressed in the morning, looking at yourself in the mirror and feeling like million dollars. Whilst it's true that many dream about having a million dollar wardrobe, it's not the reality for many. But the truth is, you don't need to spend a million dollars to look a million dollars.
There are very simple things that you can do to make your outfit and overall look just as fabulous, without spending your life savings on designer items. Just a few simple tricks can make the world of difference to your existing wardrobe, and leave you looking and feeling chic, elegant and expensive. This article is going to run through just that, showing you how to look expensive without spending much, and proving that looking good on a budget is definitely possible!
This article contains affiliate links
---
Why It's Important to Dress Well & Look Sophisticated
Before jumping in to what those tips and tricks are, here are three reasons why sophisticated dressing can make all the difference to your life:
It Helps To Feel More Confident: It's all about feeling like the best version of yourself. Here at Dukes Avenue, we strive to give our readers ideas on how they can live their best and most luxurious life, and very much believe that luxury is a state of mind. It's about feeling good both physically and mentally, and having the confidence to go after your dreams. Dressing well can give you that extra confidence boost when you need it most!
Editor's Note: for more tips on confidence and self-esteem, be sure to check out our article on self-love affirmations. It includes 10 bonus self-esteem affirmations to help you start your day the right way!
It Leaves the Right First Impression: Dressing sophisticated is critical to making a great first impression on people. Remember that people form an impression of you in the first seven seconds of meeting you, and you probably won't be able to say much in such a short time. This means that people you meet are likely to form their first impressions of you based on your general demeanour and appearance, and you want to make sure that that impression is a good one. And after all, what better way to communicate your own personal style and individuality than through your attire!
Dressing the Part: One of the best pieces of career advice is to dress for the role you want, and not the role you have. If you dream of working your way up the corporate ladder, it's always worth dressing the part and, when appropriate, you always want to look your smartest and sharpest in your work attire. And what better way to look your smartest than looking sophisticated, well-groomed and put together. A word of caution though, always be sure to wear the right kind of attire for the right event!
And to wrap up this intro, remember that looking chic and sophisticated is about more than just the clothes you wear. It's a whole way of life. It's about being well-groomed, educated and well-mannered, and full of charm and confidence. You can have the most expensive looking clothes on, yet it won't get you very far if you forget your manners or have one too many glasses of wine at a serious work event! Strike up interesting conversations with those around you, show that you have an international mindset and let your sense of universal chic style shine through! Ready to get stuck in? Keep scrolling to find out how to look sophisticated, chic and expensive in 25 easy ways.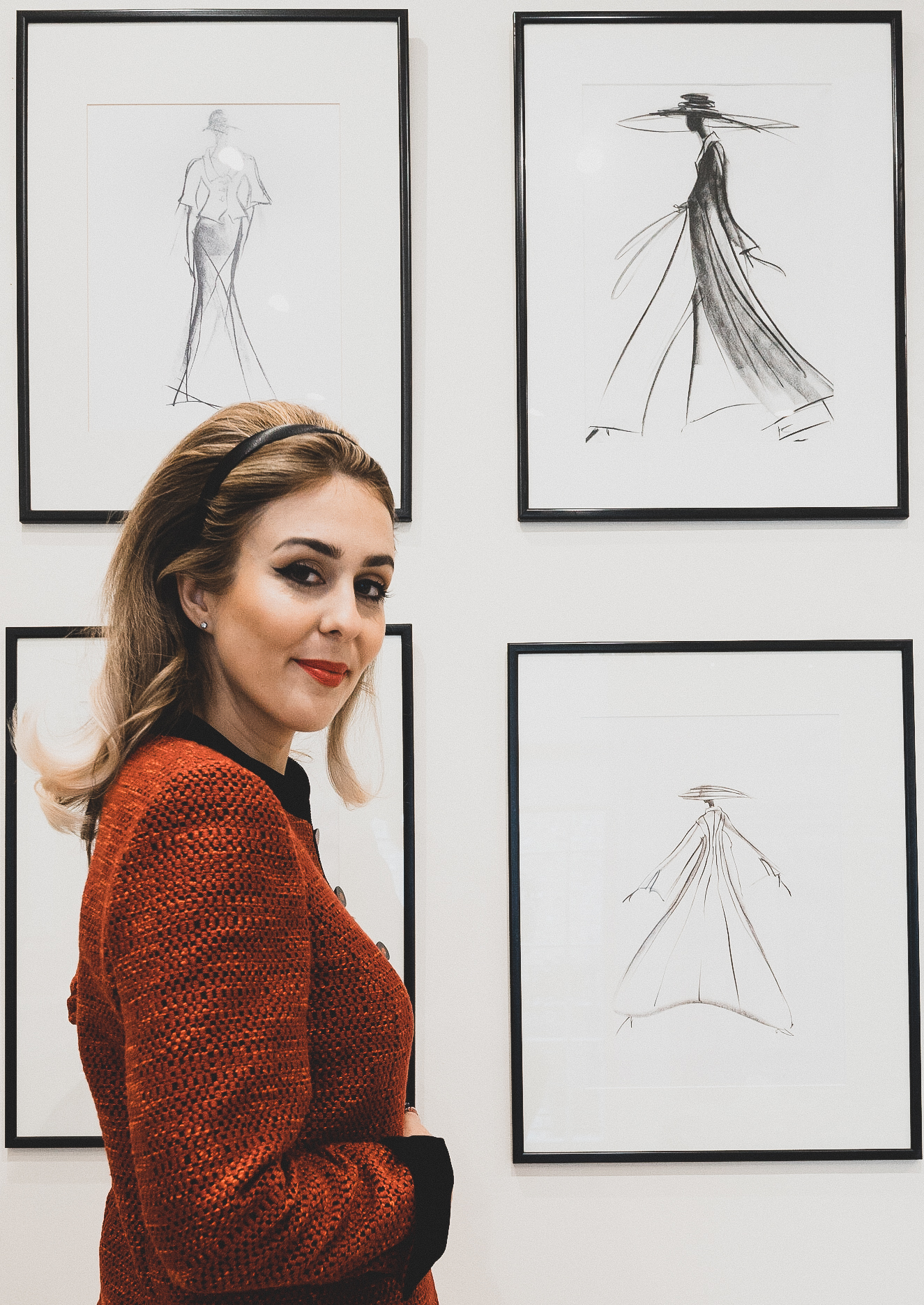 How to Look Expensive: Clothing Tips
1. Opt for Timeless Classic Cuts
Let's kick things off with clothing. There really is no need to spend a fortune to build an expensive-looking wardrobe. What's more important is the kind of clothing that you buy. Rather than spending money on fast fashion and trend-led pieces, consider investing in a capsule wardrobe of higher quality pieces with a classic cut. Items that will stand the test of time no matter the decade. Think classic crisp white shirts, a navy blazer or a little black dress. Build your capsule wardrobe correctly, and you'll have a suitable outfit for every occasion.

2. Get Your Clothing Tailored
An easy way how to look luxurious is to get your clothing tailored at a local seamstress to make sure you get that perfect fit. It may delay you wearing the garment for a few days, but if it gets nipped and tucked to fit you like a glove it will be worth it. It can easily take a garment from high street to high fashion, without the high fashion price tag!
3. Change the Buttons
Whilst we are on the topic of tailoring and turning a high street item into a high fashion item, changing the buttons on high street blazers is an easy way to elevate your outfit and make it look less generic. Swap out plain plastic buttons for more sophisticated gold metallic buttons, pearl buttons or perhaps a combination of the two!
4. Stick to Neutral Tones
There are some tones that will always look chic and sophisticated. They are the timeless colours that will always be on trend no matter the decade or era. Think black, white, beige, charcoal grey and navy as a base, and perhaps gradually increase to include shades like khaki, mocha, cream and olive. Purchasing good quality classic garments in neutral tones is the easiest way to confidently ensure that they happily live in your wardrobe for many years to come, without going out of style or looking old-fashioned. Instead, they will continue looking expensive so long as you continue to care for them and look after them properly.
5. Wear Well-Fitting Underwear
Just because your underwear isn't visible, it doesn't mean it won't impact your outfit. An ill-fitted bra or a visible panty line can be noticed through clothes and can turn a chic outfit into mediocre one. Many lingerie stores offer in-store bra fittings, and there are plenty of options for seamless panties, so there really is no excuse. If you're looking to treat yourself to some new lingerie pieces, be sure to check out our article on the best luxury lingerie brands on the market today, as well as all the different types of lingerie you might want to try.
6. Iron or Steam Your Clothes
Heading out wearing clothes that are crumpled and creased is a guaranteed way to give the impression that you're dishevelled and all over the place. It's true that mornings are a busy time and spending five minutes at the ironing board can feel very extra, but it's such an easy way to make your outfit so much more polished. Plus, a creased outfit will always be noticed, even if no one says anything.
If you're too busy to iron each morning, schedule some time in the evening or at the weekend to prepare your clothes for the week and iron or steam whatever needs to be pressed. Alternatively, check your local area to find a reliable ironing service. Nowadays, this has become so popular and prices are generally quite reasonable – it's up to you to determine whether the cost of outsourcing your laundry is lower than the cost of your time.
7. Invest in a Classic Black Structured Handbag
Can you think of anything more luxurious than a gorgeous black leather structured bag, complete with a handle and cross-body strap? When it comes to colour, black bags will always look classic and expensive compared to other colours, and a structured bag is so versatile that you can use it for countless events and occasions.
Admittedly, this is one thing on this list that could cost a pretty penny, but fret not! Depending on your location, you may be able to rent rather than buy through websites such as Cocoon Club, who offer a huge selection of designer bags for a small monthly membership fee. New items are added to their inventory regularly, so keep an eye out for new posts on their website.

8. Wear Stylish Dark Sunglasses
Stylish dark sunglasses are useful for so many reasons. Not only are they great for obvious reasons like protecting your eyes and skin from the sun, but they can also make the most casual of outfits look ultra-classy and chic. They're also fantastic for those days where dark circles get the better of you! Bring out your inner Audrey Hepburn with the perfect pair of cat-eye sunglasses, your inner Sophia Loren with large, square, black framed sunglasses or your inner fashionista with smart tortoise shell frames. Just remember not to go for anything too fancy or decorative to maintain that classic vibe.
<
9. Wear a Brooch
A beautiful brooch can elevate your outfit to a whole new level of chic. Admittedly, some may find these a little old-fashioned but that's just until you get the hang of styling them right! Brooches can look amazing when pinned to hold up a shawl around the shoulders, when pinned to a turtle neck top or to accessorise the lapel of a smart blazer!
Editor's Note: check out Vestiaire for some cool Chanel vintage brooches that can be worn for years without ever going out of fashion!

10. Accessorise with Classic Jewellery Pieces
Styling your outfit with tasteful pieces of jewellery can turn a plain outfit into one that exudes chic sophistication. The important thing to remember is to always keep it classic and elegant, and not too flashy. Gold and rose gold jewellery can look a lot chicer than silver or platinum, and diamonds will always be a girl's best friend. Style your outfit with a gorgeous pair of gold earrings, and don't forget to wear your favourite rings to complete the look.
Pay attention that whatever jewellery you wear doesn't make the outfit overly flashy or inappropriate. This may be the trend at certain periods in time, but remember that to look expensive is to look sophisticated. As Coco Chanel once said 'before you leave the house, look in the mirror and take one thing off' – in the case of accessories, this is generally true!
Editor's Note: Instead of frequently purchasing pieces of costume jewellery that do not last longer than a year or so, why not consider investing in some sustainable jewellery that is not only timeless, but friendly to society and our planet.

11. Invest in an Oversized Camel Coat
If there is one thing that should definitely be included in any capsule wardrobe, it's an oversized camel coat. Oversized camel coats are a great investment due to their versatility – drape it over your shoulders if pairing with a smart office outfit, style with lounge wear and white sneakers for a more casual look, with jeans, jumper and chunky scarf for the perfect weekend look or with your favourite little black dress and strappy heels for date night.

12. Layer (Everything!)
From your clothing to your jewellery, layering is an easy way to luxe up your look. A tailored jacket is a simple way to start, but have fun playing around to find your own style. Consider layering a cashmere jumper over a chic white shirt, layering a pendant over your choker necklace, or your knee-high boots over jeans.
13. Style Up Your Jeans
Dressing glamorously doesn't mean you'll need to give up your love of denim. Jeans can easily be made to look more expensive through some basic styling. Pair your jeans with a tailored jacket and heels and stick to classic washes. Distressed denim is the one denim to try to avoid – it can look a little more casual and might not give off the ultra-luxe look you are striving for.
14. Embrace Cashmere & Cashmere Look-Alikes
There are few materials that look and feel more expensive and luxurious than cashmere, but it does come at a cost. If cashmere is out of your price range, consider picking up some ultra-soft oversized jumpers, cardigans and blanket scarves that look just as chic as cashmere, and accessorise with gold jewellery, oversized sunglasses and the perfect structured bag.
15. Avoid Clothing that Reveals too Much
There is a very fine line between revealing enough skin to make an outfit more flattering, or revealing too much skin to make it look trashy. As an easy self-check, just think to yourself 'would I wear this to meet my mother-in-law or future employer?'.
16. Always Tuck in to Synch in the Waist
Another easy way to make your outfit look a little smarter is to always tuck in your top. By tucking in any blouses or shirt tails, baggy jumpers or t-shirts, you'll synch in your waist and easily accentuate your figure. This is especially true if wearing a matching lounge wear set that are all the rage at the moment! For maximum impact, don't forget to add your favourite belt!
17. Keep Your Bags and Shoes Clean
This is such an easy one, yet something that is often overlooked! If you're going to take the time and effort to make sure your outfit is looking as expensive and chic as possible, make sure you keep your shoes and bag clean! Scuffed shoes and a dirty handbag can spoil your entire look, so before heading out the door just give your shoes and bag a quick spot check. If need be, clean them appropriately depending on the material.
18. Match Your Shoes and Bag
Match the shade of your shoes and bag to pull off a sophisticated and stylish ensemble without having to put too much thought into it!
19. Avoid Loud Logos or Being a Brand Billboard
There may have been periods when wearing logos was hugely on trend (think the designer logo trend that was all the rage in spring/summer 2018), but the reality is that looking expensive is all about understated elegance. Many may think that wearing outfits that are entirely branded with designer logos is an obvious way of showing how much money they have, and therefore an easy way to look rich. This couldn't be further from the truth – sure those items may have cost a lot of money, but if you're looking for ways how to look more sophisticated and expensive (and not how to look rich) then this isn't one of them.
Sophisticated women know that their confidence and intelligence is everything, and that the loudest one in the room is, in fact, the weakest one in the room. Now that doesn't mean that you shouldn't buy any designer items you love that have logos on them, it just means that you might not want to wear them all at the same time! Just think to yourself, 'does this outfit scream sophisticated elegance, or do I just look crass?'.
How to Look Expensive: Hair & Beauty Tips
20. Wear Perfume
An outfit would not be complete without a spritz of your favourite scent and fortunately, it's one of the easiest ways to feel more chic and look more expensive. Not only that, but wearing perfume is a great mood booster and works wonders for self-confidence. In fact, there are so many benefits to wearing fragrance that we've published a whole article covering just that! You may also want to check out our article on how to make your perfume last all day long.
21. Maintain an Easily Manageable Hairstyle
Your hair forms a big part of your appearance, and so it makes sense that the way you style your hair will make a difference to whether you look good or not. For starters, make sure your hair always looks clean and brushed through. There's no debate that washing your hair every day consumes a huge amount of time and some even argue that daily washing does more harm than good, but that's no reason for it not to look clean. Pick up a bottle dry shampoo and use it whenever you feel the need. This is also great for adding volume to the hair, making it easier to pin up in a sophisticated style.
Aside from keeping it clean and free of knots and tangles, ask your hairdresser to cut and colour your hair into a style that you find easily manageable. This doesn't necessarily mean keeping it short or without hair dye, but rather finding a style that you can work with. Dying your hair blonde is great, but if the upkeep is too much of a chore, you might want to re-consider. The way you style your hair also makes a difference. Perhaps you may want to learn how to style your hair in a beautiful chignon or French twist. Chic and elegant and so easy to do!
Alternatively, consider investing in some tools that could make your life a little easier – tools like the Dyson Corrale or Airwrap, or perhaps some hair pins or hairbands that could take a simple chignon or pony tail to the next level.
22. Ensure Your Nails are Manicured
Keeping your nails neatly manicured is one of the easiest ways to look well-groomed and put together. All it takes is to keep them clean and filed the same length in a classic shape (think round, almond, square). If you're able to go the extra mile, why not paint them a colour which looks both smart and luxurious, such as a classic red, a beautiful shade of burgundy or nude. A French manicure can also look gorgeous but may be a little trickier to achieve without going to a salon. A simple shellac manicure, however, can easily be done at home if you have the right tools. It's not too different to painting your nails with normal nail polish!
Try to avoid adding lots of over decorative nail art, bright neon colours, ultra-long nails or new nail shapes (sorry lipstick and flare shapes). Whilst you may be tempted, looking expensive and sophisticated is about understated elegance, and that doesn't include two-inch nails painted in blue and covered in Swarovski crystals.
23. Keep Your Teeth White and Squeaky Clean
How well you look after your teeth says so much about your personal hygiene. Never leave the house without brushing them in the morning and before going to bed at night, and don't forget the importance of daily flossing! Sure, it's easier to collapse on the bed and fall asleep after drinking a few glasses of red wine, but this will speed up the discolouration of teeth that naturally happens with age.
Fortunately, we now live in an age where teeth whitening products are readily available, but it wouldn't hurt to ensure your oral care is up to scratch. Regular trips to your local dentist are also important to make sure that your teeth are checked out by a professional who will be able to give more tips on oral care that is specific to your needs.
24. Look After Your Skin
This should apply whether or not you are wanting to look expensive, but this is especially true if wanting to look well-groomed and chic. Your skin is the largest organ of your body and it deserves some love and attention to keep it looking fresh and youthful. At the very bare minimum, make sure that you thoroughly cleanse your face every morning and evening, and wear sunblock of at least SPF30 during the day, no matter the weather. If possible, we recommend forming a skin care routine that suits your skin type. If unsure how to go about it, your beautician will be able to guide you on what is best for you and your skin!
25. Create Your Signature Make-up Look
And last but not least, don't forget to create your own signature daily make-up look that you can easily put together in a short amount of time. This is more about adding the final touches to your look rather than piling on the make-up – there is no need to go overboard, but just enough so that you continue the theme of looking well-groomed and put together. Think just a touch of concealer under the eye, a brush of mascara and a spot of colour on the cheeks. For that ultra glamourous look, why not try a classic red lip, and match your lip colour to your nail polish!
---
Don't forget to pin this article if you found these tips helpful, and follow Dukes Avenue on Pinterest for more!
Sarah is a syndicated freelance writer and editor of Dukes Avenue. She founded Dukes Avenue in 2018 as a creative outlet while working at a London hedge fund. What initially started as a small blog has become a widely read luxury lifestyle online publication targeted at the modern woman, with content curated to inspire readers to live their best and most fulfilled lives. Sarah has lived in London, Malta, and, most recently, the United Arab Emirates and uses her travels and experiences to inspire much of the content.