Article Cover Photo: © Peter Cernoch from Getty Images Pro via canva.com
Freshly brewed loose tea, home-made scones topped with decadent strawberry jam and clotted cream, and mouth-watering finger-sandwiches filled with smoked meats or fresh cucumber. Is there a better way to spend a leisurely afternoon with friends and loved ones?
For myself, tea and tasty food is exactly what I look for when I need to wind down and take a brief pause from my hectic lifestyle. After all, – I like to say to myself – don't we all deserve a bit of luxury once in a while? Thankfully there is no shortage of hotels and tea rooms around the world offering a menu of afternoon tea and high tea, but once you've made up your mind to indulge in a tea-centred afternoon the question remains; what should you go for?
When I first considered the high tea vs afternoon tea debate, I was entirely confused about the differences. This is hardly surprising as both terms are frequently used interchangeably, which made me question whether there even was a difference. This (and my cat-like curiosity) is what finally pushed me to research the differences between high and afternoon tea. What I found was quite surprising! So, if you're as obsessed with tea and British culture as I am, keep reading. This article covers the meaning of both afternoon tea and high tea, and even includes information on proper etiquette and what to wear for a luxurious afternoon tea.
The Dukes Avenue Guide to High Tea vs Afternoon Tea
This article contains affiliate link
---
High Tea vs Afternoon Tea
What is Afternoon Tea?
Don't be deceived by the word 'tea'. Although a large pot of steaming tea is definitely a given (which is probably what first drew me in), the allure of afternoon tea has more to do with the delicious food that comes with the tea. That's right, expect mouthwatering tea sandwiches, fresh scones and a selection of cakes to be carried to your table on a three-tier cake stand!
The great thing about afternoon tea is that it is served on a low, coffee table – which is why it can sometimes be called 'low tea' – whilst you get to lounge on comfy sofas or a plush armchair. With a combination of lavish seating, freshly brewed tea and a scrumptious array of sweets and savouries, I'd be hard-pressed to imagine a more luxurious way to spend an afternoon.
History of Afternoon Tea
Afternoon tea is primarily a British custom, although its popularity has now spread to other countries, so that even non-Brits may on occasion enjoy a posh afternoon of tea and cakes.
Surprisingly this is a relatively new tradition – even for England – merely dating back to the 19th century (1840s). It is said that one of Queen Victoria's ladies-in-waiting Anna, the seventh Duchess of Bedford, would always get hungry at around four o'clock in the afternoon, right in between lunch and dinner time (which was typically served at eight o'clock). To tied her over, she habitually started requesting a tray of tea, bread, butter and cake to be brought to her rooms, and eventually started inviting friends to join and also partake of these late afternoon refreshments.
It seems that Anna was quite the Victorian influencer, as 'afternoon tea' soon became a fashionable, social event amongst the British upper-class. By the 1880s, it was customary for ladies of high-society to change into their best frocks and make their way to the drawing room for afternoon tea. What they were served was not tea from a teabag served in a mug, nor was it accompanied by a biscuit or a slice of store-bought cake. No, think bigger – and much fancier.
Their tea was grown and imported from India, to be served from silver teapots and drunk from the finest china teacups. Their sandwiches cut daintily into bite-size portions and their freshly baked scones served with decadent clotted cream and home-made jams. The entire event was – and still is – pure indulgence.

Afternoon Tea Facts
After falling down the afternoon tea rabbit hole, I discovered quite a few fun facts about the afternoon tea experience – some might surprise you!
Devon and Cornwall – they do cream tea differently! A scone cannot be fully appreciated without jam and clotted cream, but which gets layered on first? The jam or the cream? Well, if using Cornish clotted cream, their procedure is to first smear the jam and then the cream, whereas the Devonians -with Devonshire clotted cream – do the opposite. Naturally, this only applies for those from Devon and Cornwall, anyone else may simply choose their preferred method!
10th-century monks invented cream tea – although afternoon tea is certainly a Victorian tradition, we must extend our thanks (I know I do) to 10th century monks for the invention of cream tea. Those monks knew that to properly enjoy their tea time, and scones where the way to go.
More than one way to pronounce "scone" – how to pronounce scone is a whole other debate. Long 'o' or scone like 'gone'? According to etiquette experts, scone with a short 'o' is the correct pronunciation.
Milk first or last? When you pour hot water into thin and lower quality china cups, they are bound to crack and break. This is why, traditionally, the higher class would make it a point to pour the cold milk last and show off the superior quality of their china cups. To drink tea like a proper socialite from Downton Abbey, make sure to start with the tea and end with the milk.
Afternoon Tea Etiquette
As this is primarily an upper-class tradition, proper etiquette understandably goes part-and-parcel with afternoon tea. For sure, nowadays it is unlikely that people will care if you fail to hold your teacup in quite the right way (yes, there is a right and wrong way of doing it!) but this would have been considered the epitome of bad manners amongst Victorian society. And so, if you want to feel like the ultimate upper crust lady of leisure as you're sipping your tea, you might want to keep a few tips in mind.
Dress Code – when going for afternoon tea, it is important to dress appropriately for the occasion. Always aim for smart casual.
Place the napkin on your lap – don't just leave it on the table. Gently drape the napkin on your lap with the crease facing upward. After all, it can save you from any unsightly spills!
Pinkies down – sticking your pinkie finger up when holding a teacup is considered a mini faux-pas, no matter how elegant it might make you feel (guilty!). According to etiquette expert William Hanson, the best way to hold a teacup is by pinching the top of the holder using your thumb and index finger, resting the length of the holder upon the middle finger, and keeping the rest of your fingers nicely tucked in.
Don't clank when you stir – stirring in a circular motion is bound to result in clanking and splashing: a big no-no amongst polite society! To avoid this, lightly stroke the teaspoon back and forth inside the tea and this should also help any sugar cubes dissolve better.
Dab, don't wipe – after eating the food provided, you'll want to make use of that napkin on your lap. Yet, resist the temptation to wipe vigorously and instead gently dap at your lips.
This list of etiquette essentials is a great place to start but is by no means exhaustive. If interested to know more, be sure to check out our complete guide to afternoon tea etiquette!
Types of Afternoon Tea
Traditionally, there were three types of afternoon tea's to choose from: cream tea, light tea and full tea. Yet, with its growing popularity more varieties have evolved.
Cream tea – the simplest form of afternoon tea consists of tea and scones and/or crumpets. I like to go for this option when I feel like indulging in something sweet but am not feeling hungry enough for a full tea.
Strawberry tea – this has nothing to do with strawberry flavoured tea (although admittedly, that does sound nice!). Strawberry tea simply refers to cream tea with some delicious fresh strawberries thrown into the mix.
Light tea – light tea is mid-way between cream tea and a full tea. It does not include the full array of sweets and savouries available with a full tea but you do get some extra treats brought along with your tea and scone.
Full tea – this should be your go-to choice if you want to enjoy a traditional afternoon tea, served on a three-tier cake stand! Just start from the bottom (where the finger sandwiches are placed) and make your way up!
Royal tea (Champagne tea) – if you're looking to go all out, royal tea provides that extra dose of indulgence you need. Essentially, this is a full tea served with an extra glass of Champagne to help you finish off your afternoon in style. It is also perfect for transforming an afternoon tea outing into a fancy celebratory event.
Chocolate afternoon tea – there is even an afternoon tea that satisfies the chocoholics out there. Along with the traditional afternoon tea, venues have started offering full tea with a chocolatey twist. Expect scones filled with chocolate chips served with chocolate spread instead of jam, and of course chocolatey desserts to satisfy anyone's chocolate cravings. This is what I call heaven.
Festive afternoon tea – come Christmas time, hotels and tea-venues start offering a festive twist to their usual afternoon tea menu. Providing a full tea that typically includes turkey and cranberry sandwiches, mini minced pies and a glass of warming mulled wine, this is the perfect way to celebrate an afternoon with loved ones during the festive season.
Afternoon Tea Outfits
I always love an excuse to dress up, and afternoon tea is no exception! When choosing the perfect afternoon tea outfit, I like to aim for a stylish, smart-casual look. Save the sportswear for the gym and edgy dresses for Saturday night, and instead look for elegant morning dresses or a stylish shirt paired with smart trousers. For more inspiration, be sure to read our upcoming full article on afternoon tea outfits!
What is High Tea?
Over time, 'high tea' has become something of a misnomer. Many people refer to afternoon tea as high tea, enjoying the way 'high tea' rolls off the tongue with a grander and more distinguished ring to it. Yet, drinking tea from fine china and nibbling on delicate pastries is entirely a trait of afternoon tea. In reality, 'high tea' (also known as 'meat tea') is a much heartier, early-evening meal consisting of meat, fish or egg with a side of potatoes and washed down with warm tea. So, unlike the decadence of afternoon tea, high tea is all about healthy sustenance and replenishment after a long day at work.
You may notice that some hotels in London advertise their afternoon teas as 'High Tea in London', knowing that the majority of their customers are unaware of the difference! Yet, a few select venues do serve a specialised high tea menu – apart from their more popular Afternoon Tea menu – typically including savoury items such as omelettes, English muffins, pies and Welsh Rarebit.
History of High Tea
As the Victorian upper-class were indulging in their delicate finger sandwiches and decadent cakes, the working class did not have time or money to waste on such extravagances. No, the working class man had to wait after his long workday was over before eating, and by that time needed a decent portion of meat and potatoes to rebuild his strength and a pot of good strong tea to help him unwind.
Why is it Called High Tea?
It might feel like 'high tea' should be an even grander tea-centric event, just because of the word 'high' in there. I myself spent years thinking that high tea was a posher version of afternoon tea, picturing silver dishes filled with so many savoury and sweet goods that the Mad Hatter's tea party would be put to shame. As it turns out, this was just my imagination running away with me. High tea actually gets its name from the "high" dinner table it is typically served on, as opposed to the low coffee tables that afternoon tea is traditionally served on.
High Tea Etiquette
From its historic origins, it's clear that high tea is a somewhat casual event. Whilst the rules of etiquette are stricter for afternoon tea, basic table manners are enough for 'high tea'. Yet, if a modernised type of high tea is being served, possibly a hybrid of high tea and afternoon tea, try sticking to the same etiquette rules stipulated for afternoon tea.
---
If you love reading about tea, be sure to check out our article on Japanese Tea Ceremony Etiquette.
---
Don't forget to pin this article if you found it helpful, and follow Dukes Avenue on Pinterest for more!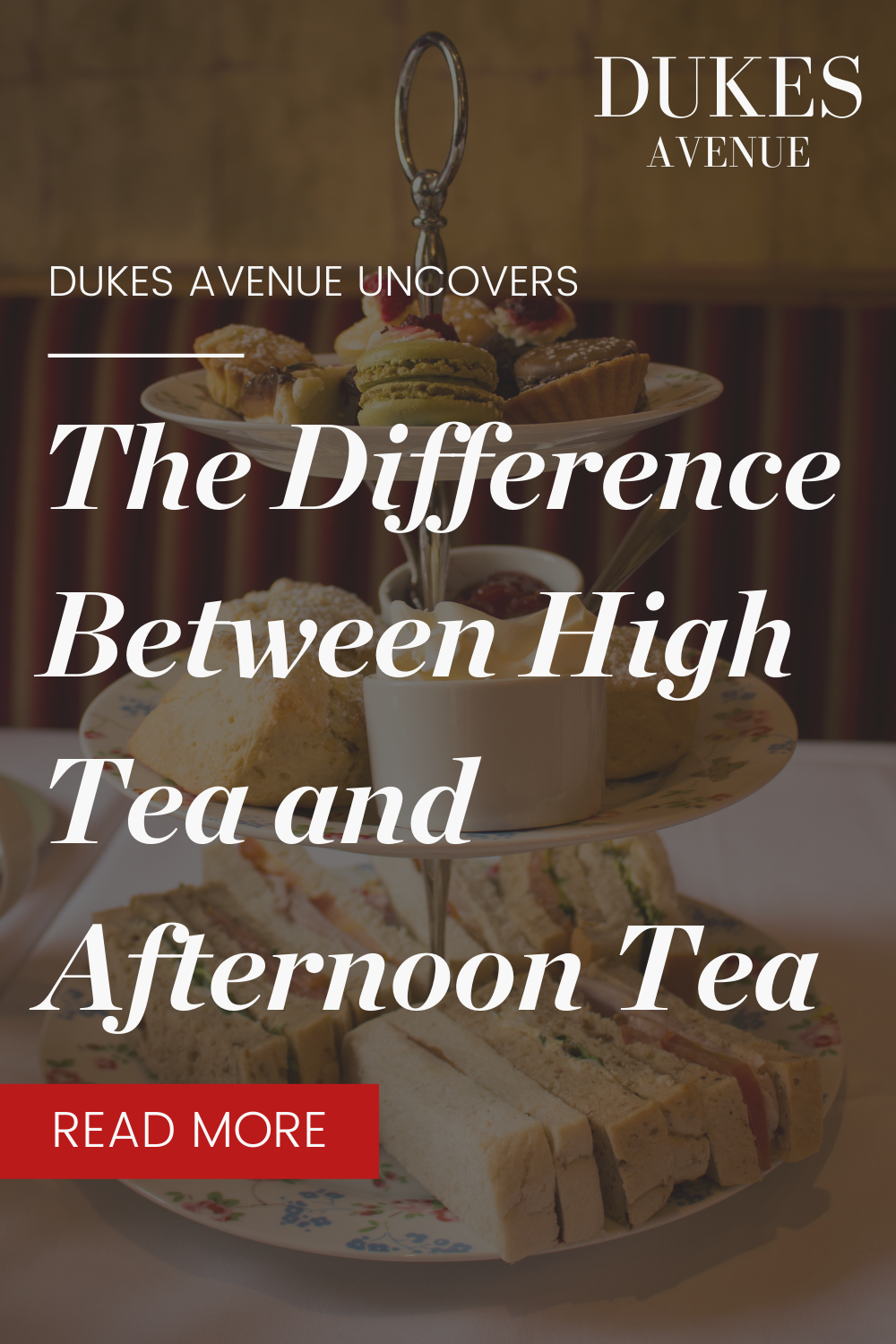 Christine is a woman with an eclectic range of artistic tastes. As a professional soprano with a Bachelor's Degree in Music, she carries over 15 years of experience in the classical music scene, both locally and abroad. Her passion for music is equalled by her love for literature and, more recently, Christine graduated for a second time with a BA in English.