Last year, I had the pleasure of organising a hen party in Malta for one of my closest friends. Planning a hen party always comes with a little bit of pressure, as you want to ensure that you have organised the perfect send off for the bride-to-be.
Growing up in Malta made this quite an easy job for me. For those do not live on the island, myself included, this was the perfect weekend away. Whilst not a Malta guide by any means, this hen weekend in Malta serves as a good intro for those who have never visited before.
And because the weekend was so perfect, I decided to share the itinerary with readers so that those ladies who are still trying to plan a hen party abroad may be inspired – or even just use this one! I've linked everything below, from our accommodation, to the restaurants we ate at, to the activities we organised.
A Weekend in Malta: How to Get There
Being based in London, my starting point was Heathrow airport on a Thursday evening, where I took the usual Air Malta KM103 from Terminal 4 direct to Malta. It does land a little late – between 00:40am and 1am, and that is assuming there are no delays. Before I became self-employed, I used to find this flight quite convenient as I was able to head to the airport straight after work. That being said, I appreciate that it lands a little late, so if travelling from Europe, you can definitely take a flight on Friday morning and start the celebrations as soon as you land.
Fortunately, there are a number of airlines which fly to Malta – both national carriers and low cost airlines. I would suggest having a look at Skyscanner below to find the best flight for you.
Day I: A Prosecco Brunch & Hotel Welcome
Brunch at U Bistrot
After landing in the early hours of Friday morning, I met up with a fellow bridesmaid and headed straight to bed. The following day, we were ready to start the weekend we had been planning for months! Our bride arrived at the location late Friday morning and we began with a prosecco brunch at U Bistrot in St. Julian's overlooking the sea.
The weather was lovely and sunny, so we got to sit outside and enjoyed the sunshine with the bride and her mum. I've linked the restaurant above for anyone that is interested in booking – just drop them a message on Facebook and they'll get back to you. U Bistrot offers lovely food and can cater to awkward dietary requirements. Once our bellies were full with yummy brunch and bubbles, it was time to start the main event.
The Perfect Hotel for a Hen Party Abroad
The whole weekend was centred around my new favourite boutique, luxury hotel in Valletta, 66 St Paul's on St Paul's Street. The hotel itself was an old palazzo that has been recently renovated to the highest standard. It was recommended to me and I was so impressed with the attention to detail, the décor and how absolutely accommodating the staff are.
We were 10 hens in total, and I had asked if it was possible for us to take an entire floor of 5 rooms. Not only did the hotel accommodate, but they also threw in breakfast and free massages for five of us at their in-house spa. This worked out very well as we gave one to the bride and allocated the remaining 4 to the bridesmaids. The spa is located underground and I loved that it had a secretive and cellar-like feel to it.
Our rooms were located on the second floor and that meant that our bride was given the Grand Suite – a beautiful room with a mezzanine level that offered a separate seating area.
After our complimentary prosecco welcome reception, we all went to check out our rooms and change into something a little more comfortable ahead of our spa sessions. The spa is run by Myoka, a local spa franchise which offers a range of luxury treatments using high quality products. The massage was so good that I actually booked a follow-up one for the day after!
Pasta and (More) Prosecco for Dinner
Feeling all relaxed and pampered, and with our bodies now probably at 75% prosecco, we started to get ready for a quiet meal in the capital at Pastaus. Very relaxed, casual and reasonably priced – again catering to those who are gluten-free and/or vegan.
If a pasta restaurant isn't what you had in mind, here's a list of some of my favourite restaurants in Valletta. Each restaurant is linked directly to their website so that you can make a booking. I've also added a handy description of the cuisine on offer and tried to offer a variety of places – from traditional Maltese to seafood restaurants.
Day II: A Day by the Pool and Treasure Hunt
Yoga on the Hotel Rooftop in Valletta
Plans for the second day of our hens meant that we were up bright and early for a super calming yoga session on the pool deck. A good stretch was exactly what we needed before a day of running around the capital. We hired a private yoga instructor who brought her own mats and that meant we didn't have to worry about renting those separately.
I can only imagine how beautiful a yoga session would have been at sunrise however it was, after all, a hens party and we were not up that early. The pool deck is located on the rooftop and overlooks some stunning views of Valletta and the harbour.
A Morning by the Pool
After our yoga session, we got to spend a couple of hours by the pool sipping on more prosecco. We used this time to share our gifts with the bride – some pretty lingerie pieces that we all thought were perfect for her ahead of the wedding. I've linked some ideas below for those also looking to buy gifts for the bride-to-be – prices start from low to high as you click through the reel. For some extra guidance, you may also want to check out our article on all the different types of lingerie you can buy.
Gift Ideas for the Bride-to-Be

A Treasure Hunt in Valletta
Our third activity of the day was a treasure hunt around Valletta. I really liked the fact that this treasure hunt could be done independently, without a time restriction, which allowed us all a lot of freedom.
As a local who is no longer resident in Malta, I actually found this so much fun. It took me around parts of Valletta that I haven't been to since I was a teenager and brought back so many memories that I started feeling a little bit nostalgic of my teenage years back home. It reminded me that there really is so much to see in Malta's capital city – from lower and upper Barrakka gardens to the City Gate and views of the beautiful Grand Harbour.
The treasure hunt was booked with Scavenger Escape Malta, who host a few other treasure hunts around the island. Extremely well-priced, with the only drawback being that you need to collect the starter kit from their office in Sliema. If you do not have a car, you will need to cab it there and back. You could also take the local buses, however if you are working to a strict timeline and value your sanity, I would avoid it.
It is worth noting that unfortunately public transportation is not that reliable in Malta and you could be waiting a while for a bus. I'm reluctant to share more info on the hunt as I don't want to give anything away for those that are thinking of doing it. What I can say is that it was so much fun and definitely worth doing!
That leads us to Saturday night, where we headed out to a cosy wine bar right around the corner from the hotel (*update* unfortunately it has since closed down). The place was booked out just for us and so we managed to get an open wine bar as well as nibbles at an incredibly reasonable price.
As a place to go out in the evening, Valletta is buzzing at the weekend and it is such a huge difference to how I remember it from my childhood, where you would hardly see a soul in the capital in the evening. Not anymore. The city has come to life and is bustling with so many restaurants, bars and people. It's so nice to see such a beautiful city awaken from what feels like a really deep sleep.
There are also a whole host of boutique hotels opening up in Valletta. I confess I have not stayed in all of them, but please do not get discouraged if 66 St Paul's is fully booked up for your visit. You'll also find a plethora of short let apartments on AirBnB.
Alas, I have no pictures of our night out on Saturday evening, but you could argue that this was the sign of a good night!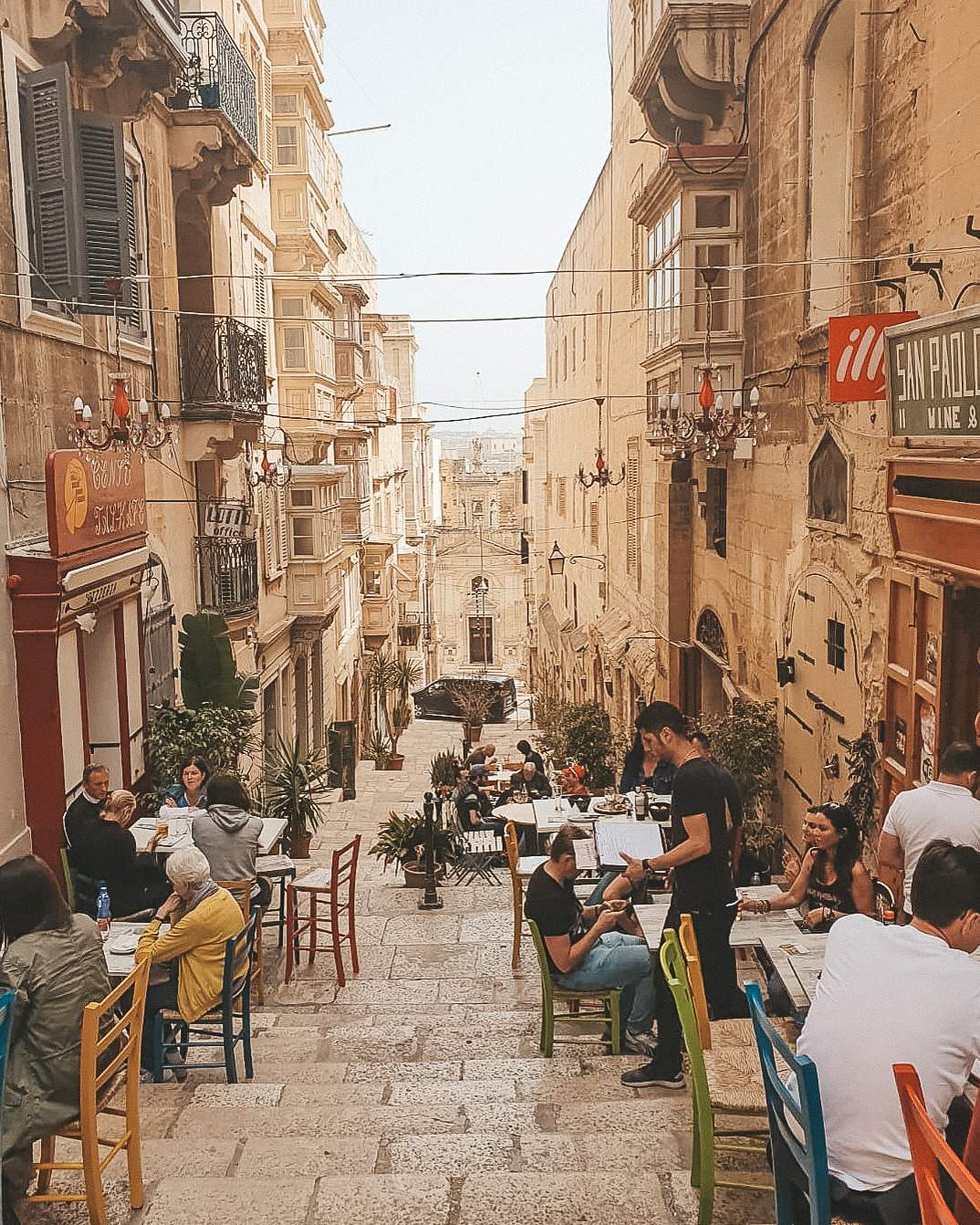 Day III: The End of a Hen Party in Malta
The final day marked the end of my chilled weekend in Malta. Sunday was a day for relaxation and check out from the hotel. I had such a lovely weekend, spent in a city that I felt I had lost touch with. It reminded me how beautiful my capital is and how I would love to visit more often. I am grateful that it provided the perfect backdrop for a very special weekend of fun, laughter and celebration.
A huge thank you to the staff of 66 St Paul's for going above and beyond. For those that are looking to plan a similar weekend in Valletta soon, please feel free to reach out for advice via my email address!
Malta Travel
There is so much I would love to share about Malta and the Maltese Islands, like the beauty of the island of Gozo, the history of the Three Cities, the clear waters of the Blue Lagoon and the mysteries of the Blue Grotto. Seven days would be enough to see a good portion of what the country has to offer.
In the meantime, I would love to hear your reviews on amazing destination hen parties you might have attended, no matter the location. Whether it's a Guinness drinking tour of Dublin, laying on a beach in the south of Spain, some pampering in the baths of Budapest or exploring the Algarve in Portugal – I'd love to hear them all!
---
If you enjoyed this article but are looking to organise a daytime hen party, or just want more ideas for hen party activities in general, you might want to check out this article on hosting an afternoon brunch. Party planning is one of my favourite things to do and I'm full of party ideas!
---
Don't forget to pin this article if you found it helpful, and follow Dukes Avenue on Pinterest for more!
Sarah is a syndicated freelance writer and editor of Dukes Avenue. She founded Dukes Avenue in 2018 as a creative outlet while working at a London hedge fund. What initially started as a small blog has become a widely read luxury lifestyle online publication targeted at the modern woman, with content curated to inspire readers to live their best and most fulfilled lives. Sarah has lived in London, Malta, and, most recently, the United Arab Emirates and uses her travels and experiences to inspire much of the content.