If your ideal luxury getaway involves basking in the sun, swimming in crystalline blue waters, visiting unique cultural sites, witnessing stunningly unique landscapes – all of course whilst letting your day-to-day tensions deliciously melt away – then a trip to the Maltese Islands in the middle of the Mediterranean will be right up your alley.
For many, the beautiful island of Malta remains an undiscovered gem, but unsurprisingly, its vast array of attractions have firmly secured its place as a favourite destination amongst those in the know.
If your trip is already booked, this article should serve as your ultimate Malta travel guide, and will save you some precious planning time, as well as help you make the most of your stay with helpful travel tips. Penned by a local, this complete travel guide provides interesting facts about Malta, insight on when best to visit, recommendations on where to stay and a comprehensive list of all the things to see and do in Malta. If you're still deciding whether Malta should be your next holiday destination, you've come to the right place! Let this article open the doors to what is truly one of the most beautiful islands in Europe.
This article contains affiliate links
---
The Dukes Avenue Malta Travel Guide
The Best Time to Visit Malta
When is the best time to visit Malta? It all depends on what you're looking to get out of your holiday.
If your main interests involve sunbathing and swimming, you might want to consider travelling between the months of April and June. In April, the weather starts to heat up but is not (yet) unbearably hot, and the waters become warmly inviting. Most importantly, by visiting between April and June you beat the tourist high season (July-September) when accommodation prices are at their highest and the island is at its busiest.
If swimming isn't your cup of tea and all you want to do is visit all the historic sites and dine in Malta's best restaurants, you shouldn't exclude the winter period. Malta's winters remain quite mild, and despite the occasional rainstorm, Malta still enjoys blue skies and sunshine in January and February.
But, if you don't mind travelling during the peak season and actually crave the summer heat, you should consider two options:
Visit Malta in July, August or early September: during the summer months, you'll certainly get your fill of sun and blue skies, and are guaranteed a tan by the end of your holiday. The beaches, and Malta in general, will admittedly be fuller and busier than usual but not enough to constitute an annoyance. However, be aware that the high humidity and the tendency for heat waves during July and August may sometimes get frustrating. Also, being the high season, accommodation prices will be at their highest. In short, if you'd rather avoid the hottest months and find lower prices, stick to May and June.
Another option is to visit during the end of September and October. Autumn is virtually non-existent in Malta, and the locals still enjoy warm weather during these months, sometimes all the way through to early December. The sun won't be as hot as it is during July and August and you'll still be able to swim and wear your summer clothes. The only downfall to these months is the increased likelihood of rainstorms, which can cause floods in the lower lying parts of Malta and Gozo.
Where to Stay in Malta
Malta has many beautiful areas where you can stay during your visit, but, the best spot for you depends on what you're looking to get out of your holiday! If you're young and single, your main priority might be to enjoy the nightlife. On the other hand, couples tend to seek proximity to romantic beaches and exquisite restaurants, whilst families usually prefer renting farmhouses or staying at family resorts. Malta lacks none of these options and our Malta travel guide will help you find your ideal vacation spot.
St Julian's is undoubtedly THE place to stay for Malta's nightlife. Paceville, a small district in St Julian's, is the mecca for Maltese entertainment, and offers a vast selection of bars, clubs and restaurants. It's where you will want to be if you're looking to party all night long or head out for late-night drinks. Some of the best places to stay in St Julian's include:
A quieter but nearby location is Sliema. This sea-side town is only a short walk away from St Julian's and adds its own selection of British-style pubs and restaurants to choose from. Sliema is also the main area for high street shopping on the island. Luxury hotel options include:
If you're a self-proclaimed beachaholic, an incurable sun worshipper, then don't fight it! To satisfy your beach cravings, we suggest that you opt for a more relaxing stay in the north of the island, which also happens to have some of the best beaches in Malta. Specifically, the town of Mellieħa offers a good choice of restaurants and bars where you can enjoy a sumptuous meal and a nightcap after a relaxing day at the beach. Consider staying at:
Do you want your stay to revolve around Malta's cultural sites? Are you looking for accommodation with historic charm and accessibility to shops and restaurants? If so, then Valletta should be your first choice – the so-called 'city built by gentlemen for gentlemen'. With a selection of boutique hotels in the heart of Valletta, you'll be able to drink in this UNESCO Heritage site's beautiful architecture, visit its numerous points of interest and be centrally situated near the island's main transportation hub. Some of the best hotels to stay in are:
Things to See in Malta
Despite being a small island, there is an abundance of things to do and see in Malta. Here are the top places to visit in Malta, and what you can do when you get there.
Cities in Malta Worth Exploring
Valletta, the capital city of Malta is a must see! Built in 1566, this small, but historically rich, capital city is packed full of places to visit and sights to see. The entire city of Valletta has been recognised by UNESCO as a site of historical and cultural prestige, and since 1980, Valletta has been officially listed on their World Heritage site. This gorgeous city is built on a peninsula and, from the Upper Barrakka Gardens, you can look over two natural harbours; the Grand Harbour and Marsamxett Harbour. Boasting various points of interest, 16th century architecture, secluded beaches, shops and top restaurants, the city of Valletta is not to be missed.
The "silent city" of Mdina, used to be Malta's capital city until 1530 and is currently on the UNESCO World Heritage site's tentative list. This ancient city is surrounded by impressive, towering bastion walls. Inside the city's protected walls, the streets are paved with cobblestones and lined with beautifully preserved historic buildings. As you walk along its narrow and winding alleys, you're bound to feel like you've been transported back in time.
For more historic destinations, you'll also want to visit The Three Cities of Vittoriosa (known locally as Birgu), Cospicua (Bormla) and Senglea (Isla). These three cities are highly rich in historical heritage, dating back to the time of the Knights. Located at the edge of the sea, Birgu, Bormla and Isla overlook the Grand Harbour and the waterfront of Valletta, providing impressive views for their sea-side restaurants and couples enjoying a romantic promenade. Like Mdina, they are surrounded by beautifully kept bastions and offer must-see museums and forts.
Just a boat ride away you'll find Sliema. This sea-side resort is a favorite amongst locals and tourists alike, appreciated for its unique blend of city feel and sea-side calm. This is the place to go if you're looking to go shopping before having an elegant lunch by the sea, and then taking a leisurely stroll along the Sliema promenade.
As you travel towards the south of Malta, you might want to stop off at Marsaxlokk. This small village offers a unique glimpse into typical Maltese culture. Apart from gorgeous sea views, this fishing village hosts a popular fish market and is home to various restaurants whose specialty is freshly caught, local fish and seafood.
Other Things to Do in Malta
Take the Ferry to Gozo
Apart from the main island of Malta, you should also head to its sister island, Gozo. Once home to the renowned Azure Window, which sadly collapsed in a storm in 2017, Gozo remains the second largest island in the Maltese archipelago. Its rustic charm has endured, making it an irresistible holiday destination for both the mainland Maltese residents and tourists.
To get to Gozo, simply catch one of two ferry options. If travelling on foot, travellers are able to take advantage of the newly launched Gozo Fast Ferry, which operates between the Grand Harbour in Valletta and Mġarr in Gozo. The journey takes less than 45 minutes and runs at frequent intervals throughout the day. If travelling by rental car, you'll need to drive to Ċirkewwa in the north of the island of Malta, and catch the Gozo Channel ferry. The Gozo Channel takes a mere 20 minutes and allows you to travel in the comfort of your own car.
Once you've arrived, here's a short list of the top attractions to see on the island of Gozo:
Cittadella, a sparsely inhabited fortified city in Victoria, the capital of Gozo,
Ta' Mena Estate in Xagħra, a typical Gozitan agritourism site cultivating local produce, as well as offering accommodation to guests. Take our word for it, you're going to want to pick up a jar of their sun-dried tomato paste!
Ta' Dbiegi Crafts Village in Għarb, an old crafts village showcasing the best of Gozitan craftsmanship
The Basilica of the National Shrine of the Blessed Virgin of Ta' Pinu, a Roman Catholic Basilica that Gozitans hold in high regard
Xewkija Rotunda Church (has the third largest unsupported dome in the world)
Ġgantija Temples, a megalithic temple complex and UNESCO World Heritage Site that dates back to 3600 BC, and is classified as the oldest freestanding structure in the world
Book a Day Trip to Comino
Located between the islands of Malta and Gozo, the small island of Comino is an (almost) uninhabited swimmer's heaven. Its main attraction is the gorgeous Blue Lagoon, which is aptly named for its shimmering turquoise waters.
In summer, it makes for a lovely place to swim, snorkel, dive and windsurf, attracting both locals and tourists. A word of caution, due to the popularity of the Blue Lagoon, it can become very crowded during the peak months, and unless you arrive early, you may be disappointed with the experience. If you'd prefer to avoid huge crowds, we highly suggest chartering a private boat, as this will allow you to visit more secluded (and equally as beautiful) locations such as Crystal Lagoon. Your skipper will advise on the best spots to stop at depending on the weather that day.
In winter, Comino's picturesque landscapes beckon walkers and photographers who seek its wild charm and a glimpse of this small island's mysterious and secretive beauty.
Take a Boat to the Blue Grotto
The Blue Grotto, which is quite different from the Blue Lagoon in Comino, is a complex of seven, natural sea caverns along the southern coast of Malta. These impressive caves are only accessible by boat from the sea-side village of Wied Iż-Żurrieq, with the route being clearly marked out by road signs.
Whilst regular boat tours are available, it is also possible to charter a private boat, and this is the option re recommend if you want to swim, snorkel or dive. Due to the short duration of the public boat rides, swimming is not permitted during the tours.
Go Diving
With clear waters and rocky scenery, the Maltese Islands are excellent for diving. There are over 80 ship and aircraft wrecks and various stunning underwater caves and reefs to explore. You can reach Malta's numerous diving sites either from the shore or by boat, with each site offering its own level of difficulty.
One of Malta's most popular diving spots is the Blue Hole. The dive starts in a 12 m pool which leads through a window-like crevice. Here, divers can swim through the clear blue waters, surrounded by bright orange and silver parrot fish, as they spy octopus and lobster hiding between the rocks. As you swim deeper into the caves, the reflections become more impressively atmospheric. The Blue Hole's unparalleled beauty has marvelled even advanced divers, making it one of the go-to diving spots in the Mediterranean.
Visit Popeye Village
Popeye Village is a picturesque film set which was authentically constructed for the 1980 musical production of Popeye. Since then, this unique, wooden "village" has been transformed into a theme park and grown into one of Malta's most Instagrammable photography spots! With activities set up for summer and winter, both children and young-at-heart adults are bound to enjoy Popeye Village's variety of activities and panoramic scenery.
Visit the Prehistoric Temples
The Maltese Islands are home to some of the oldest, prehistoric remains in the world, some even predating Stonehenge! If you'd like to insert some culture into your trip, here's a list of the Neolithic temples that can be found in Malta (there are even more located in Gozo that aren't listed here):
Tarxien Temples, Tarxien
Ħaġar Qim Temples, Qrendi
Mnajdra Temples, Qrendi
Ta' Ħaġrat Temples, Mġarr
Ta' Skorba Temples, Mġarr
Buġibba Temple, St Paul's Bay
Tal-Qadi Temple, Naxxar
Kordin Temples, Paola
Kordin Temple, Mqabba
Borġ in-Nadur, Birżebbuġa
Ħal Saflieni Hypogeum, Paola
Attend the Maltese Village Feasts
In summer, the Maltese skies become awash with colourful fireworks. Malta is iconic for its religious celebrations, and many Maltese feast enthusiasts wait all year for their village's yearly celebration: preparing banners, practicing band music, making fireworks and preparing the day's entertainment. If you want to experience Maltese culture first hand, attending one of Malta's village feasts should be on the top of your to-do list. When you're there, make sure to try the traditional Maltese feast food, drink a few cold beers and make merry like a local.
Visit the Maltese Festivals
Malta is known for its celebratory customs. Blessed with an accommodating Mediterranean climate and an inclination to enjoy life to its fullest, the Maltese organize all sorts of religious and cultural festivals throughout the year.
Food and Drink Festivals:
| | | |
| --- | --- | --- |
| Name of Festival | Location | When |
| The Strawberry Festival | L-Imġarr | April |
| Malta International Food Festival | Valletta | July |
| The Delicata Classic Wine festival | Upper Barrakka Gardens, Valletta | August |
| The Marsovin Wine Festival | Hastings Gardens, Valletta | July |
| Malta Craft Beer Festival | Fort St Elmo, Valleta | August-September |
| Farsons Beer Fest | Ta' Qali, Attard | August |
Music festivals in Malta:
| | | |
| --- | --- | --- |
| Name of Festival | Location | When |
| The Valletta International Baroque Festival | Valletta | January |
| InClassica | Valletta | April |
| Earth Garden | Ta' Qali, Attard | June |
| GħanaFest | Floriana | June |
| Isle of MTV Malta Festival | Floriana | July |
| The Joseph Calleja Concert | Floriana | August |
| Malta International Jazz Festival | Valletta | July |
| Glitch Festival | Rabat | August |
| AMP Lost & Found Festival | St Pauls Bay and around Malta | September |
Other events and festivals in Malta:
| | | |
| --- | --- | --- |
| Name of Festival | Location | When |
| Carnival | Valletta, Malta & Nadur, Gozo | February |
| Malta International Fireworks Festival | Valletta and more | April |
| Medieval Mdina | Mdina | May |
| Valletta Film Festival | Valletta | June |
| Malta Pride | Valletta | September |
| Notte Bianca | Valletta | October |
| Birgufest (Birgu by Candlelight) | Birgu | October |
Due to the pandemic, some of these activities might get cancelled or be subject to restrictions. For up-to-date information about this, visit https://www.festivals.mt/.
Best Beaches in Malta
The Maltese Islands are an Eden for sea-loving beach enthusiasts. With more than 300 days of sunshine a year, Maltese beaches boast the ideal weather for swimming and sunbathing, and are adorned with impressive seascapes and distinct rock formations. Here's a helpful list of beautiful beaches in Malta that worth checking out on your trip.
Popular sandy beaches around Malta:
| | | |
| --- | --- | --- |
| Name of Beach | Location | Estimated Driving Time from Valletta |
| Mellieħa Bay or Għadira Bay | Mellieħa | 45 minutes |
| Golden Bay Beach | Mellieħa | 40 minutes |
| Armier Bay | Mellieħa | 47 minutes |
| Paradise Bay | Mellieħa | 20 minutes |
| Għajn Tuffieħa Bay | L-Imġarr | 35 minutes |
| Ġnejna Bay | L-Imġarr | 40 minutes |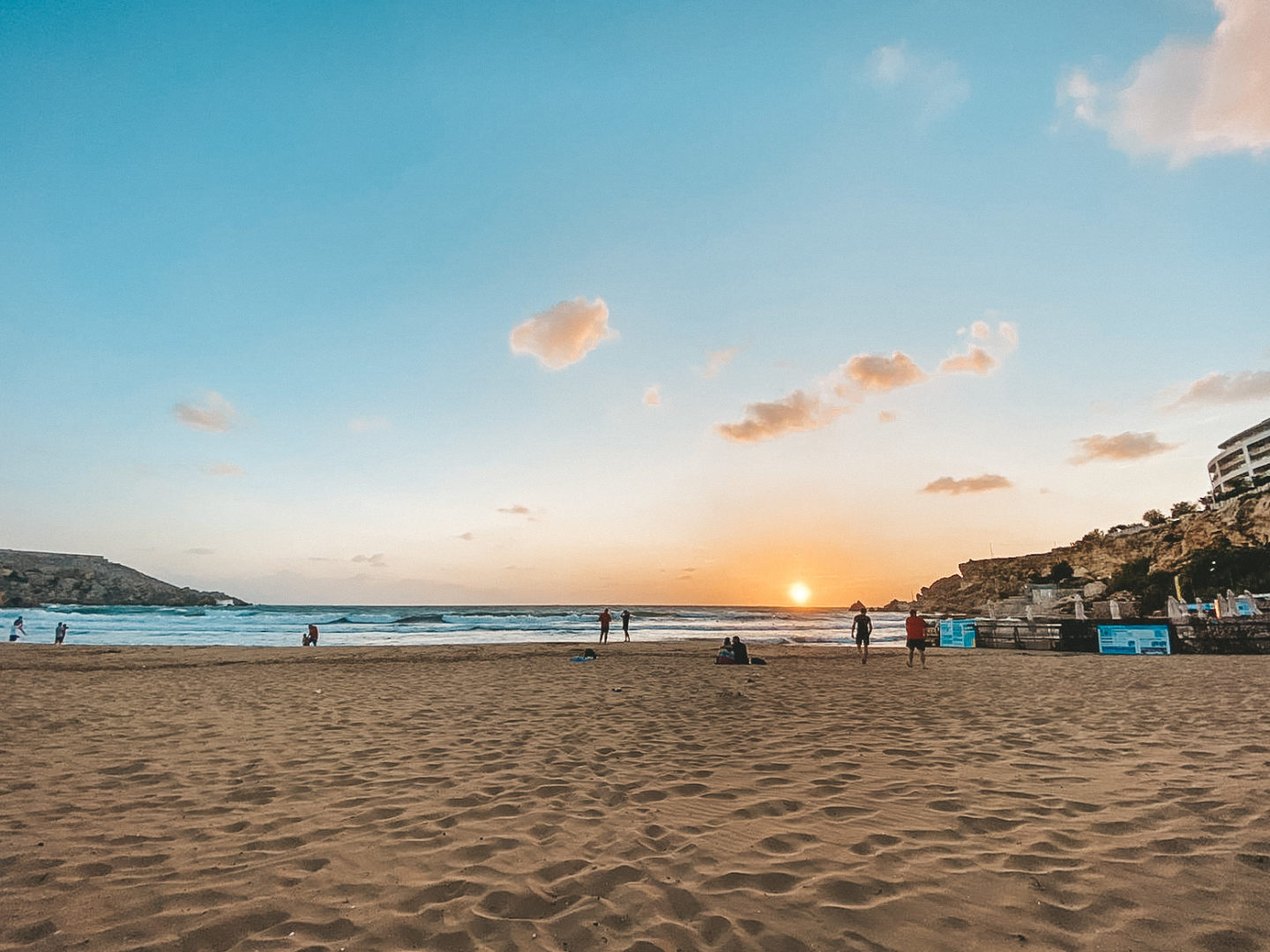 But, if you're seeking a more secluded beach to enjoy, away from all the high-season visitors, you might want to avoid the main sandy beaches. There are a few peaceful spots around Malta to you should consider if you're not put off by a bit of a walk.
| | | |
| --- | --- | --- |
| Name of Beach | Location | Estimated driving time from Valletta |
| Imġiebaħ Bay | Mellieħa | 50 minutes |
| Qarraba Bay | L-Imġarr | 40 minutes |
| Fomm ir-Riħ Bay | L-Imġarr | 40 minutes |
| White Tower Bay | L-Armier | 50 minutes |
| St Peter's Pool | Marsaxlokk | 30 minutes |
| Xrobb L-Għaġin | Marsaxlokk | 30 minutes |
| Delimara Bay | Marsaxlokk | 25 minutes |
Getting Around Malta
If you're only here for a few days, it might be best to avoid public transport. Buses are not always reliable and traffic can be heavy, and this can eat up unnecessary time on your trip – time that could be better spent exploring.
That being said, the traffic and Malta's narrow roads make it a difficult place to drive for those who are unaccustomed to driving right-hand drive cars, andhttps://vallettaferryservices.com/ so, it might be worth relying on taxis (Bolt being the Uber equivalent) or hiring a personal driver whilst in Malta. For the latter option, we recommend eCabs. The prices are competitive and by hiring a private driver, you give yourself the freedom to roam around Malta without wasting precious hours waiting around at bus stops or battling traffic at rush hour.
You might also want to take the ferry boat/water taxi service to and from these sea-side locations:
Some of the major tourist spots are situated near the sea and these seafaring options provide you with gorgeous sea views as you travel to your next destination.
8 Things You NEED to Know Before Travelling to Malta
1. Have Cash in Hand
Some of the local shops retain a traditional feel and still don't accept payment by credit cards, so it's always a good idea to carry some cash.
2. Don't Forget to Use Sun Protection
Sunscreen is not just for the beach! In summer, the sun is hot and the UV is high, so make sure you wear sunscreen and a possibly even a hat when you're out and about, to protect yourself from the harmful rays.
3. Rent an Umbrella on the Beach
Renting an umbrella when you go to the beach is money well-spent, especially if you plan to spend a few hours chilling on the sand.
4. Choose the Best Swimming Spot for the Day
Swimming is one of the joys of summer, but nobody likes being stung by a jellyfish whilst they're enjoying their time in the water. Be sure to check the optimal beach for the day depending on currents and whether conditions.
5. Some Shops Close in the Afternoon
If you plan to fit in some time to hit the shops, be aware that some tend to close between 12:30pm and 4:00pm.
6. Try the Local Food
You'll probably see a lot of 'pastizzerias' scattered all around Malta. These local kiosks sell Maltese baked goods called pastizzi (pastry filled with ricotta cheese or mushy peas) and if you want a quick bite to eat in between sightseeing destinations we recommend you try these crunchy treats! You might also want to try the Maltese ftira (traditional Maltese bread filled with tomatoes, tuna, olives, capers and a splash of oil). It's the perfect snack to eat by the sea. Wash it down with a cold Cisk, the local beer, or Kinnie, the local bitter orange soft drink (soda).
7. Pack a Shawl or Scarf
If you plan to visit some of Malta's beautiful churches and cathedrals, don't forget to take a scarf with you to cover your shoulders.
8. Do Not Miss Out on Visiting Gozo & Comino
Unlike Malta, Gozo has retained a more traditional character, boasting quieter streets and more open spaces. It harbours its own set of attractions and should definitely not be skipped! This also applies for the tiny island of Comino, an island so small that it only has two inhabitants! Comino is where you'll find those turquoise waters that feature in many travellers' photographs.
The Best Restaurants Malta Offers
When it comes to great Maltese restaurants, locals and tourists are met with a myriad of restaurants that serve high quality food and great tasting local wines. But, with such a vast variety of restaurant choices, tourists might struggle to find the true gems amongst the more common-place eateries. So, to help you out, our Malta travel guide comes complete with a list of the best restaurants in Malta.
For fine dining restaurants who specialise in Maltese cuisine try:
Other restaurants we recommend you try are:
If you follow a plant-based diet and are looking to eat out at a fine dining restaurant, check out the vegan menu at The Lord Nelson Restaurant in Mosta.
---
Don't forget to pin this article if you found it helpful, and follow Dukes Avenue on Pinterest for more!
Christine is a woman with an eclectic range of artistic tastes. As a professional soprano with a Bachelor's Degree in Music, she carries over 15 years of experience in the classical music scene, both locally and abroad. Her passion for music is equalled by her love for literature and, more recently, Christine graduated for a second time with a BA in English.